A PEACEFUL PLACE TO STUDY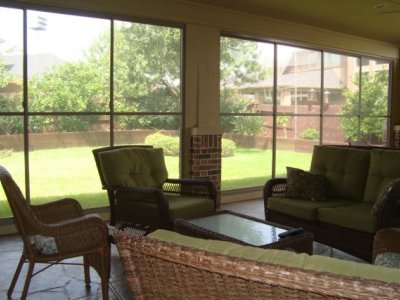 Do you need a place to unwind and read or do your kids need a quiet place to study? The great thing about using a sunroom as a study is the use of natural lighting.  Natural lighting will brighten up your study and is better for your eyes than artificial lighting. And a sunroom will protect you from the elements so you can use it all year long without wind or rain causing any problems.
Furniture
One advantage of a sunroom over a screened porch is that you have more furniture and decorating options. A bench in the corner of your sunroom can become a perfect reading nook if you add some comfortable pillows.
A dining table is a good option for kids to do their homework. It's attractive and you don't have to have multiple desks in the room if you have more than one child working in the room at a time. That's also a good idea if you want to use your sunroom as more than just a study. It could go from reading room to dining room in a flash.
Smaller children can use a coffee table as a creative workspace. Make sure to provide good seating so your child can focus on their work and not have to constantly shift around to get comfortable. Small children are easily distracted so a quiet comfortable room is a great way to help them focus when they need to do a little drawing or homework.
Electronics
In today's world, kids in need of a sunlit space to read or do their homework will often need internet access and a computer device of some kind. Tablets and laptops are probably the best options for a computer device. If you want to keep it simple, a larger tablet or laptop might actually be a plus since they have larger screens and, in the case of laptops, larger keyboards that are easier on the hands.
What about internet access?  If your wireless connection turns out to be unreliable in your sunroom, you can improve its performance with an easy to install wireless extender device.
Reduce distractions
You may find that all this technology is a distraction for your kids since they can use their computer to watch television shows and listen to music. But browser plugins exist that block these services, which will reduce the temptation to be distracted. This is especially helpful to kids that need to finish their homework.
You can also use custom made Sun-Shades if the Texas sunshine is a little too bright.
Your children and do their homework in peace in your sunroom without the distraction of the TV and with lots of natural light.
Sunrooms aren't just a place to sit and look at the birds. They are versatile spaces that extend your home. You can use a sunroom as a study, office, dining room, living room, home gym, playroom, and more. If you need to extend your living space, consider turning your existing porch into a sunroom.