ADD VALUE TO YOUR HOME WITH A SUNROOM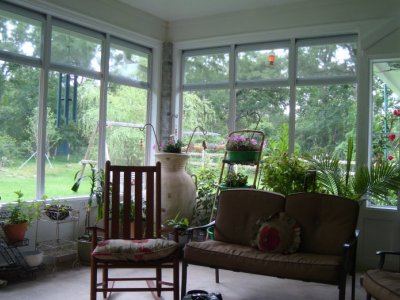 Most houses aren't meant to be your forever-and-ever home, and that's okay. Your housing needs change as your life change and as your family changes. Just because you know you'll only live in a house for a few years is no reason not to make improvements on it–in fact, it should be added incentive. Adding value to your home means that you'll increase the rate at which you can sell it. You may even be able to make a profit when the time comes to move.
Add Value to your Home
One way to add value to your home, even while you still live there, is by adding a sunroom. A sunroom with energy efficient vinyl windows, floods the room with natural sunlight while lowering the cost of your energy bill. It provides a room for your kids to play or a room for you to entertain or even use as a home office that saves energy costs and helps you to enjoy the outdoors even in extreme heat. Imagine a living space that didn't need any electrical lighting source for most of the day. How much money could you save with something like that?
Sunrooms also add value to your home when you finally decide to move. The beautiful, open space, energy efficiency, and versatility of sunrooms adds to the appeal of the home, and many home buyers are willing to pay more for a sunroom.  A well-insulated sunroom could retain about 51% of its value when selling your home.
Ultimately, it comes down to the insulation and function of your sunroom. Make sure when you install a sunroom that the room is properly insulated with energy efficient windows, so that it isn't drafty in cold months or stuffy in hotter months. The function and potential functions of the room can also add appeal to future buyers. Many people use sunrooms as home gardens, play areas, or living spaces. You could also use a sunroom for a fitness room or a place to do yoga. Another idea for a sunroom is to add it onto the master suite of the home. Not only will this add to the square footage of your master suite (and a large master suite is always popular), but it offers a relaxing view for anyone who might buy the home in the future.
You may not stay in your house forever, but your sunroom could be there for generations to come. It's a peaceful area that you can enjoy either with your family, your friends, your work, or just your morning coffee. When you move, others will appreciate the appeal to do the same thing or the opportunity to make their own memories there. Because a sunroom can be so instrumental in increasing the value of your home, when it comes time to have yours installed, you want to hire a professional you know you can trust. Sunspace Texas provides beautiful, comfortable sunrooms at affordable prices. With their sunrooms, you can increase the value of your home and know that you've left a mark on it that may last as long as the house does.