Sunspace Texas and the St. Jude Dream Home Showplace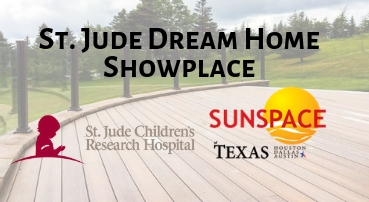 For years, Sunspace Texas has been in the business of creating beautiful, efficient sunrooms and porch enclosures that we provide to Bryan-College Station and surrounding areas. We're proud of both our craftsmanship and our commitment to customer satisfaction. However, we're even prouder when we can use our local position in the world of construction and home improvement for a good cause. That's why we're happy to announce that we've partnered as a sponsor with the St. Jude Dream Home Showplace.
What is the Dream Home Showplace?
St. Jude Children's Research Hospital is well-known for their passionate work to find a cure and advances in treatments for "pediatric catastrophic diseases," most notably cancer. In addition to the research they do to find a cure, they make a point of treating all children, regardless of the family's income. Through donations, they're able to ensure that they never need to bill families for their child's cancer treatment. That's where the St. Jude Dream Home comes in.
Ground was broken for the dream home last October, and the house will be finished this month. At this point, the Dream Home Showplace opens, offering an open house to the public and, of course, any prospective buyers. The house will be sold like any other home. The difference here is that 100% of the profits from the house will go to the hospital, allowing St. Jude to cover the bill and even offer housing for families of children with cancer.
What is Sunspace Texas's Role?
Sunspace Texas is participating in the St. Jude Dream Home Showplace as a sponsor. We believe in St. Jude's mission and, as an established construction company in Bryan-College Station, we offer our services and energy efficient sun spaces to the new dream home. When you tour the home, you may notice some of Sunspace Texas's work. However, ultimately what we're excited for is helping out with a good cause.
What's Next For the Dream Home Showplace?
From breaking ground until today, the St. Jude Dream Home has been in progress for six months. Now it's ready to be shown off. This month starts with an invite-only viewing of the finished dream home for sponsors and trade partners. However, later in the month and running through May, the house will open to the public for free tours. These tours typically take place on Saturdays from 9am-5pm and Sundays from noon to 5pm. You'll be able to see the house for yourself, and you may even see Sunspace Texas there as we represent our brand and our products.
Want to learn more about the St. Jude Dream Home Showplace or about our sunrooms and porch enclosures for yourself? Contact Sunspace Texas today for more information or a free estimate.