THE BENEFITS OF A SLIDECLEAR SYSTEM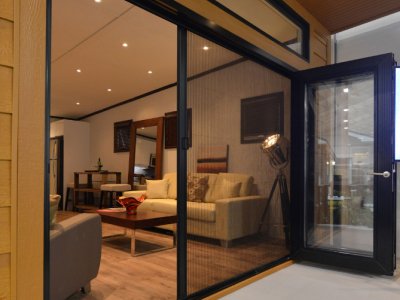 If you want to add accessibility, convenience and plenty of natural light into your home, you might think that your only option is a standard screen door or sliding glass door. While these can be great options, a SlideClear pleated screen system offers an enhanced level of convenience and simplicity.
These systems can be installed on an opening in your home to let in fresh air and natural light while keeping out annoying insects and other pests. They are a great addition to an existing porch, allowing easier access to the outside. They can also be installed for homeowners who want to build a brand new sunroom or screened porch in College Station, TX. Here are some of the benefits available with a SlideClear system.
Ease of Installation 
If you're planning to remodel your home, you might think that this process would take a long time, possibly even weeks. While some remodeling projects, such as replacing a kitchen, might take a long time, it doesn't take long at all to add a new pleated screen system to your home.
If you already have an opening in your home or a previously installed screen door, you can have a sliding screen replacement installed in a very short time. This means that you can go from dreaming about a better screen door to enjoying your porch or screened patio in just a day or two.
Ease of Use 
SlideClear systems in College Station, TX are incredibly simple to use and maintain. They slide open and closed on a low-profile PVC guide that only stands 1/8" tall and can be installed on top of many surfaces. This means that you can install and remove the screen system at your leisure without worrying about damaging your existing floor. 
The ultra-durable PET mesh installed on these doors is light, which means that you can slide the door open and closed with minimal effort. This material is also easy to clean and no special chemicals or extra effort are required to maintain the system's beautiful, sleek appearance. The material is weather resistant and it can stand up to the high heat, heavy storms and bitter cold that we may all experience here in Texas. 
Affordability
SlideClear pleated screen systems are cost-effective. If you already have an opening where you would like to install one of these systems, you don't need to do any extensive remodeling or construction. A trained professional can quickly and easily install your system with a few simple steps. You won't have to pay the amount that you would expect for parts and labor that you might find with a standard screen door or creating a new doorway. Installing one of these sliding door systems is one of the easiest and most affordable upgrades that you can add to your home. 
If you want to get your very own SlideClear system in College Station, TX, this goal is well within your reach. Contact a local installation professional to find out more today.