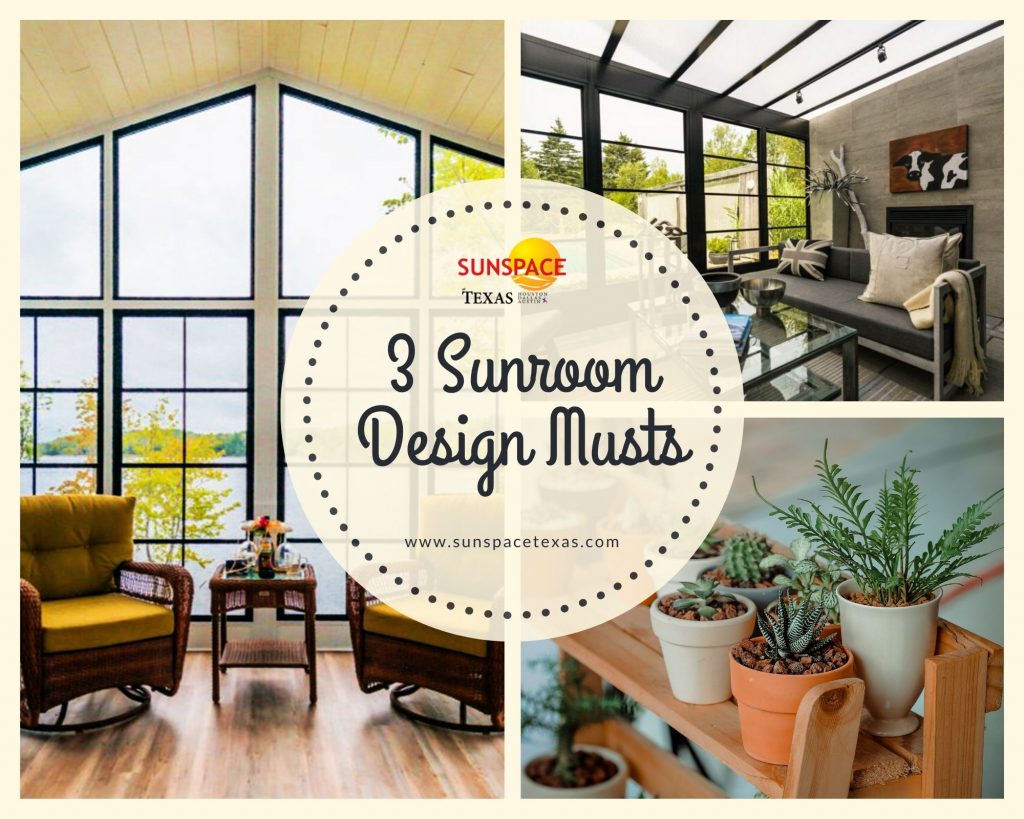 Once your sunroom is installed, it's time for the fun part — designing the space! You can do a number of things with your sunroom. You can make it a playroom for children, an entertainment room, a craft room or a dining area when you feel like taking in the view outside while you eat. But there are a few design staples that just work for sunrooms, whether for aesthetic or practical reasons. Here are a few of our favorite design musts for your Texas sunroom:
Seating
Whatever you choose to do with your sunroom, even if it's an indoor garden or a playroom, you probably don't want to spend the whole time standing or sitting on the floor. You'll want to include some seating. This could be a cozy couch, chair, or sectional if you're going for more of a reading or breakfast nook. It could also be a long table with chairs if the design you have in mind is something more along the lines of a garden pavilion or a dining space. A work bench is great for a craft room, and a bench or chair can be a welcome respite after your morning yoga or pilates workout.
Plants
The vast amount of natural sunlight that sunrooms take in make them the perfect place for something of an indoor garden. Even if you use the room for other purposes, a few strategically placed plants can have a stunning impact on the design of the room. Colorful flowers are sure to catch and fascinate the eye, while herbs are something both beautiful and practical: you can take fresh cuttings and incorporate them into your cooking. Looking for something a little more low maintenance? Succulents require less water while still providing a beautiful appearance, but make sure not to put them in the harshest sunlight.
Coffee Table
Not planning on creating a full dining space in the sunroom? A coffee table offers a more casual surface on which to place cups of tea, coffee, wine, or cocoa, or even a snack platter. It also offers a way to center the room, something you and others can congregate around. You can play your favorite board or card game around the coffee table or simply sit and talk for a while. It's also great for storage in some ways, as most coffee tables include shelves under the table where you can keep favorite books or knick knacks. No matter what you're going for in your sunroom, there's a good chance that a coffee table will help to enhance it.
It all starts with the right sunroom in the first place. At Sunspace Texas, we know no two homes are the same, so we offer several different types of sunrooms. We have porch enclosures, screen rooms, and three or all-season sunrooms. We'll work with you to construct the sunroom of your dreams, but how you design it is up to you. Contact Sunspace Texas today to get started with a free estimate.