4 Decisions to Make Before Installing Your Sunroom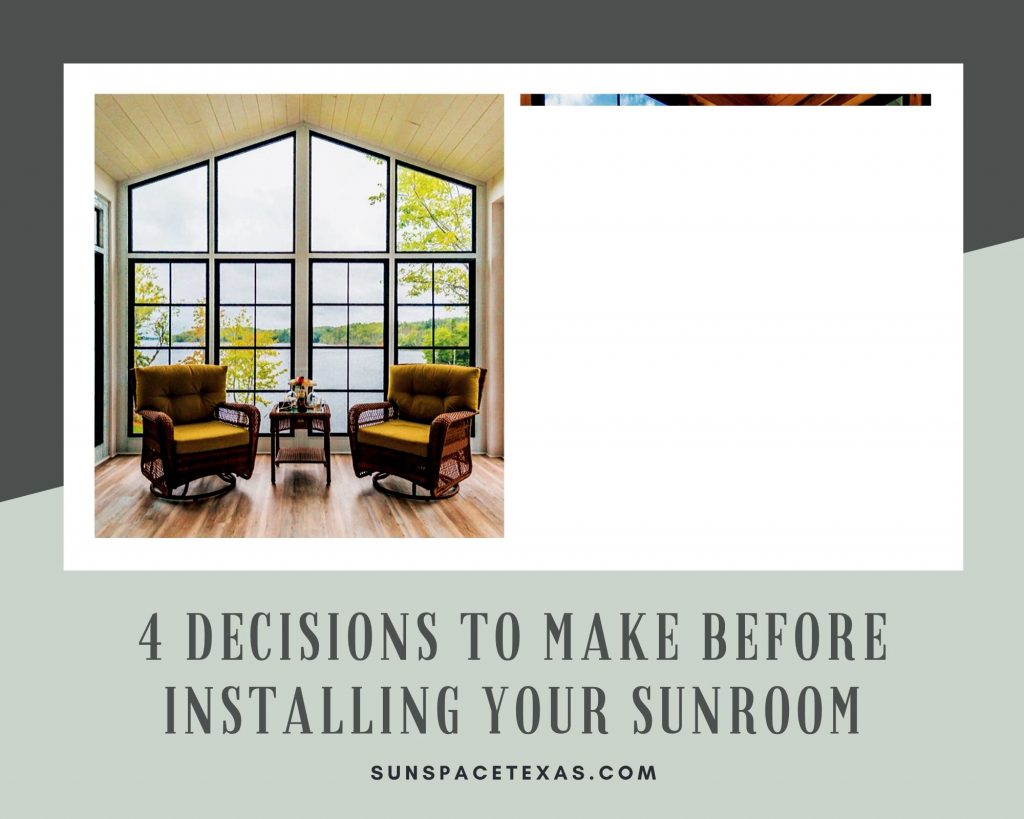 Are you ready for your new sunroom? There's no doubt that a sunroom can add numerous benefits to your home: more space, more sunlight, and a blend of your outdoor and indoor area. But installing a sunroom comes with several types of considerations, from where you want the sunroom installed to the type of sunroom you want. Here are a few decisions you'll want to make when you have a sunroom installed:
What Type of Sunroom Do You Want?
At Sunspace Texas, we offer a wide variety of sunrooms, from porch enclosures to all season sunrooms. It all depends on what you want. If you're looking for a way to enjoy the view even on rainy or snowy days, a porch enclosure or a screen room might suit your needs. For better energy efficiency, vinyl window sunrooms, 3-season sunrooms, or all-season thermal rooms might be more your speed. Think about the reason you want a sunroom, and draw your priorities from there.
Where Do You Want Your Sunroom?
If you decide to go with a porch enclosure, this answer is obvious: the front of the house, where the porch is located. Even if you don't have a porch, many homeowners place their sunrooms at the front of the house. The back is also a popular spot for a sunroom, allowing you a view of your backyard and any potential outdoor garden. Typically for a sunroom, you want to face a spot that will get optimum sunlight as well as offer the best views.
How Much Can You Invest In Your Sunroom?
Budget is also an important thing to consider. Any home improvement is sure to be an investment, but with a variety of sunrooms to choose from, you can find something that fits into your budget. The more insulated your sunroom, the steeper the investment, although it may offer better home value and energy savings in time. Consider long-term costs, as well as whether the sunroom contractor offers financing.
What Kind of Flooring Do You Want to Use?
The windows and screens aren't the only element to your sunroom. Consider, too, the floor that you'll be walking on. Natural wood and wood laminate flooring are popular choices, smooth and warm, offering a contrast to the light, airy nature of the screens. Tile might also be a consideration, and some even use carpet in their sunrooms. Think about what you plan to use your sunroom for. If you want to use it as an indoor garden, you might want a smooth floor that's easy to clean. If you plan to use it as a playroom for your kids, a softer floor might be a better option.
Ready for your sunroom? Contact Sunspace Texas today for more information or for a free estimate.