How To Choose the Right Sunroom For Your Home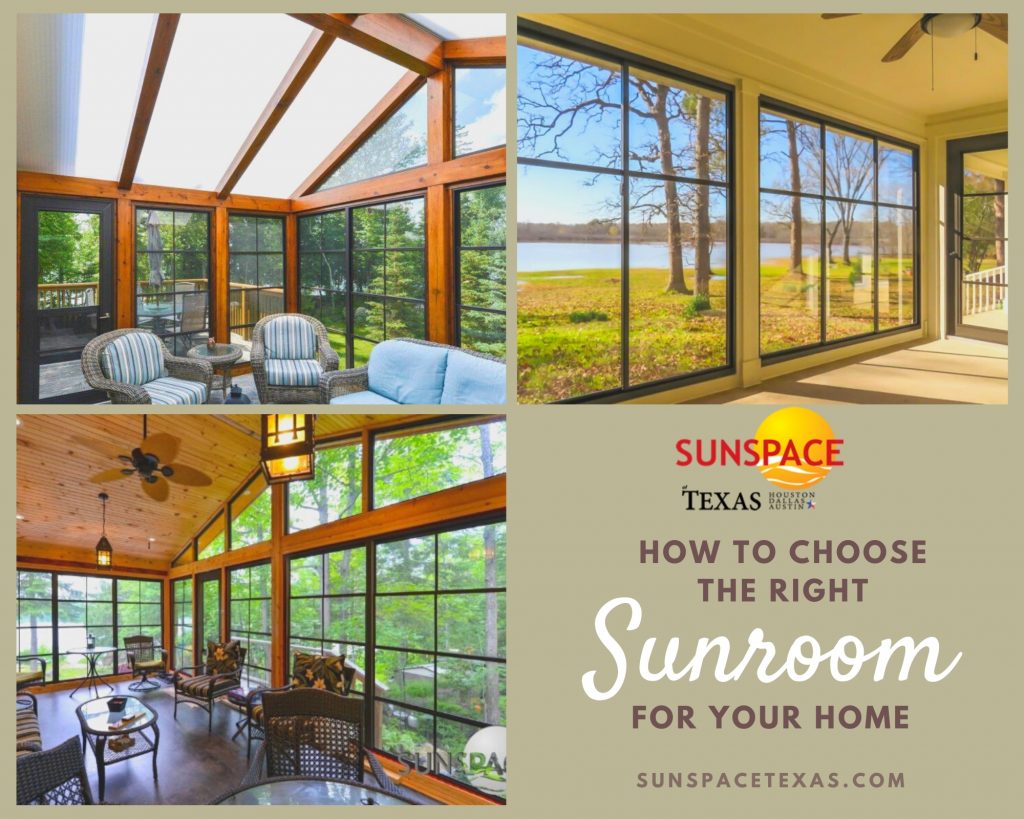 When it comes to sunroom installation, you have options. At Sunspace Texas, we offer a wide range of sunroom options, including:
Porch enclosures
Screen rooms
WeatherMaster vinyl window sunrooms
Glass 3-season sunrooms
All-season thermal rooms
But chances are, you'll only have one sunroom installed in your home. This begs the question, which one should you choose? There's really no right or wrong answer. The truth is, it comes down to which sunroom best suits your needs. Here are a few things to consider in choosing a sunroom for your home.
How Often Will You Use Your Sunroom?
Do you plan to spend every day in your sunroom more or less? Or is it more of a seasonal entertainment space? If you only plan to use your sunroom for part of the year, you can save money by enclosing your porch, installing a screen room, or going with the more durable WeatherMaster sunroom. On the other hand, if you plan to use your sunroom as an office, a bedroom, or something you plan to use every day, all throughout the year, something more insulating like an all-season sunroom will serve you better.
What Is Your Budget?
Sunspace Texas offers financing, so we can help you fit your project into your budget, but your budget also often informs the kind of project you choose for your home. Our various sunrooms vary in price so we have something for everyone. If you can only afford a relatively minor change that still allows you an enclosed space flooded in sunlight, then a porch enclosure or a screen room may be the best plan. If your budget is more liberal, you can afford to make considerations like energy efficiency and durability, as can be found in the WeatherMaster sunrooms or the all-season thermal rooms.
Where Will Your Sunroom Be?
If you want a sunroom to face the street, a porch enclosure or screen room will probably be the best choice. Many sunrooms can also face the back, leading out to the patio. We offer patio enclosures, as well, but a WeatherMaster sunroom might serve you better here, especially if trees and the like are overlooking your sunroom. The point of a sunroom is to let in the most amount of sunlight, but depending on the angle of your sunroom and the way the room hits it, energy efficient sunroom models might be the way to go.
There are benefits to any of our sunroom options. It all depends on your needs and preferences for your sunroom. Need help picking the right choice for you? Contact Sunspace Texas today to learn more about our sunroom options, our financing plans, or to get started with a free estimate on your own sunroom project.