HOW TO ENTERTAIN DINNER GUESTS – WITHOUT A FORMAL DINING ROOM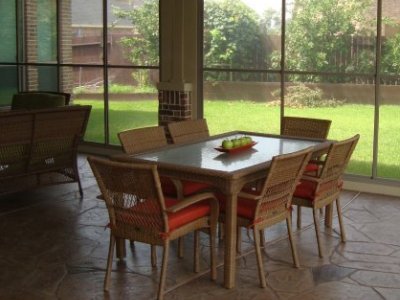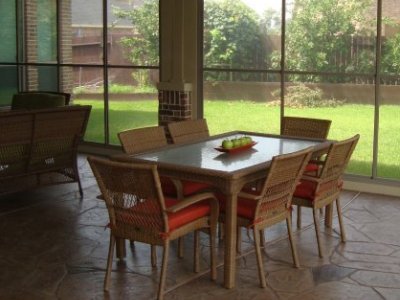 Because many houses have eat-in kitchens, a lot of families don't often need or use a formal dining area. So, we may convert our dining rooms to something more functional or we buy houses with no dining room.
Still, there are times when a dining room would be useful. It's a lot easier for dinner guests to eat at a table than in a living area. Imagine you want to make your favorite soup or stew recipe for guests. Having them sit on living room furniture carefully holding their bowls while also trying to sip their drinks is a little too precarious.
Thankfully, there are options. Here are a few ways to have a dinner party without a formal dining area.
Take it outside
Weather permitting, setting up a table outside can create a relaxed casual eating experience.  If the weather is less than perfect you'll need some cover. This is where a screened porch or sunroom can come in handy.
If you have a covered porch, sunroom, or screened porch it's easier to plan an outdoor dinner party without worrying so much about the weather. A sunroom or screened porch can be turned into a dining area in a snap and a covered porch will protect your guests from sprinkles if the weather goes south on you.
Convert your living room
If the weather is too cold for an outdoor dinner, consider making your living room into a dining room for the evening.  If your living room is large enough you can move your living room furniture into a tight conversation friendly formation where guests can sit before dinner.
If you don't have a large dining table, set up folding tables side by side. Add a lovely table cloth and you have a dining table. If possible, center the table under a light. That will give the room more of a dining room feel. If that's not possible, hang twinkle lights above the table.
Serve couch-friendly food
If you can't get all of your guests around a table, you can set up your furniture to make a conversation-friendly environment. Instead of all chair facing the TV, turn them to face each other. Make sure there are plenty of places for guests to place their drinks and serve food that is unlikely to spill. No spaghetti, no soups.
If you want to have a dinner party in a home with no dining room, there is a way. You just have to use creative use of the space you have. If you're lucky enough to have a screened porch so you can enjoy a warm Texas evening with your friends, take advantage of it.  With fireflies providing a little of their own lighting all around, it's a great way to spend an evening with friends. If you would like to add a sunroom or screened porch to your home, contact Sunspace Texas. We can help you have a lovely outdoor dining experience.