MAKE YOUR SCREENED PORCH PERFECT FOR TEXAS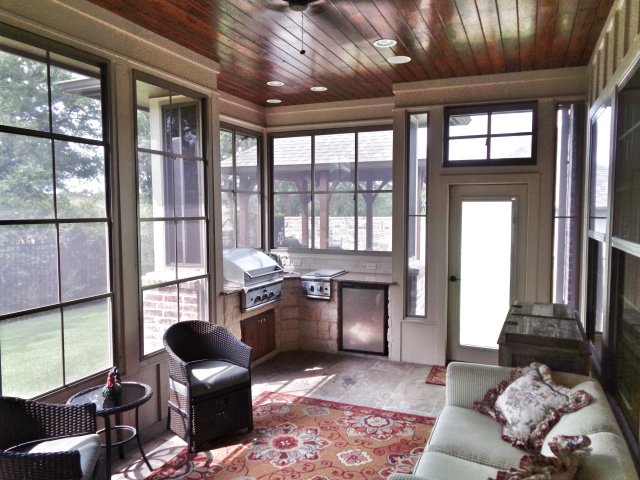 If you're installing a screened porch or if you have a screened porch that needs an upgrade, there are some products that can make your screened porch or sunroom perfect for Texas weather. Let's look at some options you have when you're converting your porch into a real living area.
Sunroom
Adding a sunroom to your home doesn't have to be complicated. While you may wonder what windows to install and whether there will be enough shade, there are easy answers to both of those questions.
A WeatherMaster Plus stacking door system is a wall that can be opened. It can work with new construction or an existing roof. The important part is that this system isn't one size fits all. You can get one that fits your home.
Weather Master Windows are also a good option. They're strong, safe, and flexible. You won't have to worry if these windows will shatter in a hail storm. They open and close easily to protect you from the summer heat or the cold of winter.
If you need some shade in your existing sunroom or in your new one, there's something that will work well for you. Sun-Shades are good for blocking the Texas sun when it gets a bit too hot outside.
Screening in Your Porch with Style
When you think of screens for a porch, what do you think of?  Do you think of a rectangle with a screen inside?  Do you imagine it old and damaged?  Not to worry, there is a modern pleated screen system called SlideClear. This system isn't just a series of framed rectangles that you can slide. These pleated screens can go across an entire entry way on their own without having to hide behind a window. The pleats let them fold up so that they're practically invisible when they're opened. Their material is stronger than traditional windows as well.
Acrylic Roof System: If You Just Want a Little Shade
If your porch isn't already covered, you have a lot of options. One of the most simple options is an acrylic roof system. It can be placed in a pergola or any structure you would like. It blocks the more damaging UV rays and heat while allowing some light through.
The Acrylic Roof System will protect from hail damage and will not shatter.
If you're not sure what products will work for your home, look at a gallery of before and after pictures.   Then you can get a good idea of what products you might like to try. Then when you have an idea of what you would like, get a free estimate.
Enclosing a porch sound like a time-consuming job. Don't let the idea of the hassle get the better of you. You can hire experienced professionals to do the work for you. We can custom build the perfect screened porch for you. That's a lot better than trying to make the products you find at a local hardware store fit in your home. When something is built custom, you know it will fit with your home.