SAVE ENERGY WITH THE NATURAL LIGHT OF A SUNROOM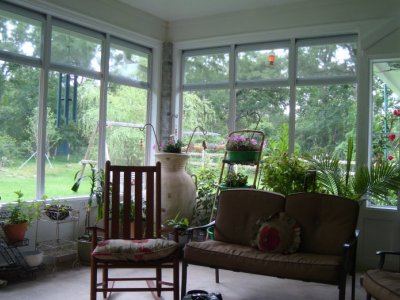 Everyone is trying to find ways to save energy: energy saving lightbulbs, hybrid cars, biking or taking public transportation instead of driving. It's important to be conscientious of the impact each of us make on the planet, not to mention on our energy bill. And the most replenishable form of energy that's completely free is natural sunlight. Here are tips for a sunroom that can help you conserve energy while enjoying those bright natural light of summer days in comfort.
Energy Efficient Glass Windows
By their very nature, sunrooms are mostly glass windows. It's important to note, however, that not all windows retain the same amount of heat. Familiarize yourself with the U-factor of the glass (solar heat loss coefficient). The lower the U-factor, the more energy efficient the window will be. Single-paned windows have too high of a U-factor to be efficient glass windows and will cause the room to be too hot and stuffy.  Find windows that reduce heat while protecting you from the ultraviolet rays of the sun. This way, you'll save energy and your sunroom will be comfortable in summer and winter alike.
A Ceiling Fan 
Sunrooms provide a lovely view, but even with energy efficient windows, on the hottest days of summer, a sunroom can be uncomfortably hot. To keep the room cool and livable, consider installing a ceiling fan. This will help you save on your utilities and create a breeze that will keep you cool on those hot, hot Texas days. In winter, try reversing the direction of the fan's blades to draw warm air up through the room.
Insulation
More important to keeping your sunroom comfortable both in the extreme Texas heat and in the chill of winter is proper insulation. Make sure any cracks and leaks in the room are thoroughly sealed and weatherstrip around all the frames in the room. You'll be grateful you did when the extreme temperatures come.
Acrylic Roof System
There are a number of reasons for covering your enclosed porch with an acrylic roof. It offers shade and blocks damaging UV rays, but the translucent surface also lets the natural light shine through. It's strong enough to protect against hail and heavy storms and the rigid panels won't shatter if they do take any damage. It's easy to install and requires almost no maintenance. An acrylic roof system will keep the sunroom cool, sunny, energy efficient, and it looks pretty good, too.
Making an enclosed sunroom out of your porch is an excellent way to save energy on an office, a reading room, or just a living space. But the renovations can be a disruptive hassle for a homeowner to take on. That's why it helps to hire a skilled professional. Take a look at our before-and-after gallery of some of our previous work. Once you're sure, reach out and let us know what energy efficient elements you'd like to be installed in your sunroom. We'll give you a free estimate.