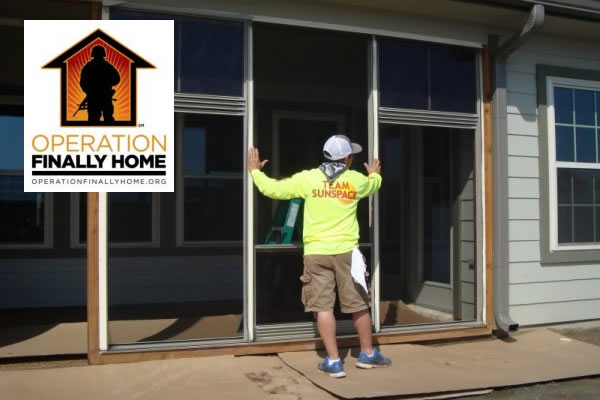 Sunspace Texas is in the business of improving lives with our porch enclosures and sunrooms.  So, it was a pleasure to be able to donate one of our porch enclosures to the 102nd Operation Finally Home project that was completed in May of this year for Retired U.S. Army Master Sgt. Marc Seal. The non-profit organization has improved the lives of many local disabled veterans and widows of fallen warriors with completely furnished, mortgage-free homes in honor of their services to our country and communities.
Welcome Home
Mr. Seal began his military life in 1990.  During his service, he was deployed to both Iraq and Afghanistan twice where he obtained injuries during three of those four deployments, which forced his early military retirement. As a medically retired veteran, he receives only half of the pay benefits that a 20-year retired veteran receives. When Operation Finally Home discovered that this hometown hero was living in an RV, they rallied local builders to help build Mr. Seal a new house.
This act of kindness renews hopes and reduces burdens for injured veterans. For bravely serving our country, disabled veterans like Mr. Seal deserve a proper welcome when they return home. Together, we can let them know they are not forgotten and how deeply gracious we are for their services. Thank you and welcome home, Mr. Seal and other veterans who have sacrificed their quality of life to protect ours.