HOW TO AVOID MOSQUITOES WITH A SUNROOM IN COLLEGE STATION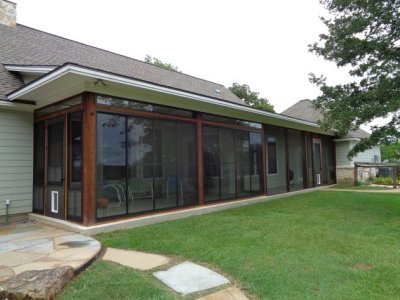 For many folks in Texas, there is simply nothing better than enjoying a summer evening on the back porch. From firing up the grill to having a cool drink with friends, these activities are a favorite pastime for many home owners. However, anyone familiar with Texas knows that mosquitoes can turn a fun evening into an irritating situation.
Installing a sunroom or a screened porch in College Station is a one-step solution to the problem of annoying mosquitoes. Not only can these rooms keep you safe from itching mosquito bites, they are also the ultimate way to enjoy a cool summer evening. This article will explain how you can enjoy the benefits of a sunroom on your porch at home.
Keep Bugs And Pests Away
The best way to avoid getting bitten by mosquitoes is to simply keep them out of your area. A sunroom installed by Sunspace Texas can give you the durable, long-lasting protection of WeatherMaster stacking doors. These doors stack out of the way in minutes for conveniently opening up your back porch.
When you're ready to settle down and enjoy the evening mosquito-free, simply stack the doors into place and have a seat! You're ready to relax for a great evening that won't end in itching.
Keep Cool And Dry
Mosquitoes are attracted to sweat. That's the reason you'll often find plenty of them at backyard barbecues where many people are standing out in the hot sun. If you keep cool and dry, mosquitoes will be much less likely to come around.
A sunroom with WeatherMaster doors gives you the ability to control ventilation at levels of 0%, 75% or 100%. You can let in enough airflow to keep cool or simply prevent any outside air from coming in while you stay cool with a ceiling fan. By maintaining a temperature-controlled environment on your porch, you can experience an evening free of mosquitoes and heat.
Keep Pets Protected
If you are a pet lover, you know how important is to protect our furry friends. Dogs and cats that roam in your backyard are more likely to attract mosquitoes and then bring them into your party. Although our pets may have good intentions, they don't realize that mosquitoes can hitch a ride on their fur. The next thing you know, you can end up with bugs and pests inside your home.
With a screened for or an acrylic patio cover in College Station, you can give your pets a place to relax and enjoy your company without running around the yard. You'll keep your pets safe from annoying bites while your whole family relaxes together.
Sunspace Texas gives you so many options when you're looking for a sunroom or screened porch. No matter what type of home you live in, there is a covered back porch solution available for you. Sunspace Texas uses only quality products from trusted dealers to make sure that you and your family turn your back porch into a great spot for year-round gatherings.