SUNROOM DÉCOR – KEEPING IT LIGHT AND BREEZY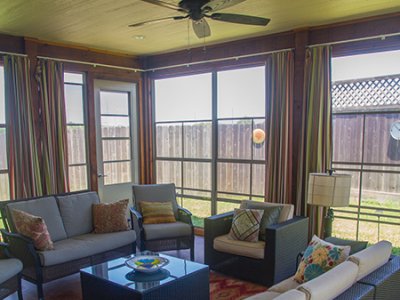 Sunrooms not only add to your living space, they are a great place to enjoy some natural light. Here are some ideas to help you decorate your sunroom or screened in porch.
Keep it light
You can make the most of natural light by using light colored furniture. That doesn't mean it has to be entirely white, but lighter colors will take advantage of the sunlight. If you have a sunroom that is completely protected from the elements with products like WeatherMaster porch doors and windows, you can use indoor furniture.
If you have a screened porch with SlideClear Pleated Screens, you can use outdoor furniture with an indoor feel.  The trick is to keep the colors a little lighter regardless of the type of furniture.
Lighting after dark
With a sunroom, you can use ordinary lamps, but with a screened porch you can use a variety of outdoor lighting techniques. Since you'll be behind screens or windows, you don't have to worry about attracting mosquitos or other insects. Along with your porch light, you can also add clear string lights to add a romantic feel.
Stay with your overall decorating theme
While you want to make the space lighter, you still want the room to flow with the rest of your house. That will make it feel more like an extension of your living space rather than a separate entity. You can use similar styles of furniture and similar decorative items.
Sunrooms don't have to be casual. You can use formal decorating techniques. However, a slightly more casual version of the rest of your house is also appropriate.
Mirrors
While mirrors are often used to make a small space feel bigger, they can also give the illusion of being surrounded by nature when you place them on a windowless wall. This prevents you from having one dark wall in the sunroom or on your porch. And helps the room feel even lighter.
Houseplants
Well-placed potted plants can make the inside flow seamlessly to the outside. They take advantage of the natural light and bridge the gap between inside and outside.
Window seats
While sofas and other large furniture can be used, consider placing some seating that takes advantage of the windows. You can put bench seating in corners with a couple of pillows to make good use of the natural light.
Ceiling fan
Here in Texas, we have a lot of great weather. It can get a little warm, though. A beautiful ceiling fan can be elegant and functional. It will let you enjoy your space even on hot Texas afternoons. This is especially true of screened porches that can't hold in your interior air conditioning. A ceiling fan will help keep the airflow going through your enclosed porch or patio area.
The decorating options are almost endless. Your sunroom or screened porch can be treated like an extension of your home. You can use it as an extra dining room or an extra living space. However, you use it, make sure to take advantage of the natural light.