EXPAND YOUR HOME-CREATING A HOME GYM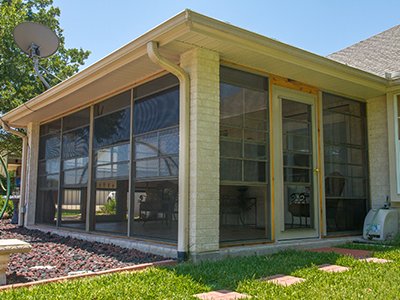 There's a lot of lovely weather in Texas, but sometimes the weather is just too extreme for outdoor activities. What can you do if you want to exercise, but it's too hot for a jog?  You could go to the local gym or you could build your own. It's not as difficult or expensive as it might sound. Then, you can have your own gym without membership fees.
Finding or creating space
If you have a spare room, you can easily turn that into a gym by installing a fan and some workout equipment. What if you don't have a spare room?
Another option is to add more space to your home. Consider turning your porch or patio into a sunroom.
While that may seem like an expensive option, it' doesn't have to be. It's not like installing full addition to your house. You can use some of the existing structure. If you already have a covered porch or patio, you're halfway there. If you already have a screened porch, a few upgrades could give your fitness equipment complete protection from the elements.
Sunrooms are a wonderful place to exercise. You have sunlight and outdoor beauty without blazing summer heat. If the weather is nice, you can open up the doors and windows for a real outdoor experience.
Once you have your upgrades installed you're ready to put equipment into your new home fitness room.  What equipment do you need?
Buying equipment
For a home gym, you'll likely need cardio and strength equipment. One often over looked piece of equipment is a good bench to help you when you're using free weights. Also, a rack for your free weights will help keep them organized and out of your way when you aren't using them.
Multi-purpose room
Your new sunroom can be used for more than just fitness equipment. If it's large enough you can put the fitness equipment to one side and add a small dining room to the other side. Console tables make excellent room dividers without blocking light. Dining in a sunroom adds elegance you your dining experience. A sitting area in your sunroom will help you enjoy the beauty of the outdoors while resting comfortably inside.
Adding on a new sunroom doesn't have to be expensive. With the right professionals doing the work you can get it done in a cost-effective manner.  Enjoying the outdoors has never been more convenient. In good weather, you can open the windows and enjoy the outdoor air while in inclement weather you can see the outdoors without the negative effects.
Is a sunroom right for you?
If you own your own home and have an existing porch, you can look into adding a sunroom. Just ask some experts for a little advice about the cost and the best plan for your home. You'll be surprised how easy it can be.  However, if you just need a shaded area where you can work out, you may prefer an acrylic roof system.