The Benefits of Sunspace Roof Systems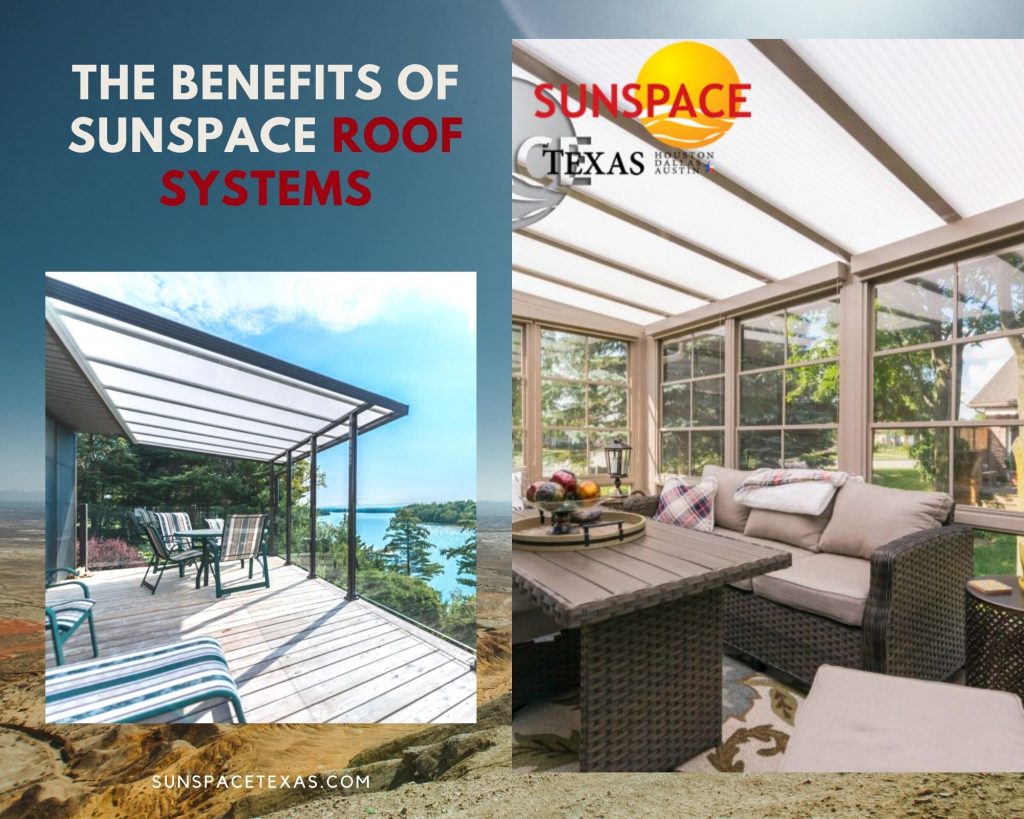 To many, the need to have a roof over their heads is a no-brainer. Generally speaking, roofs protect us from the elements and wildlife so that we can relax while we are indoors. However, when most people picture a roof or ceiling, they visualize a solid structure that also blocks sunlight. With Sunspace Roof Systems, this is simply not the case. Here are the benefits of our roof systems:
Sunspace Roof Systems and Their Benefits
Whether you are interested in a roof system for your patio, sunroom, or pergola, Sunspace Texas has it all. Our acrylic systems protect you from UV rays and reduce heat transmission while still allowing you to enjoy your time in the sun. Every panel is custom-made to your exact specification.
Acrylic Patio Cover
Sunspace Roof and Patio Covers offer perfect protection from UV rays and inclement weather. The only thing that passes through our acrylic sheets is softened sunlight, ensuring countless healthy and relaxing days in the sun. Our adaptable Sunspace Acrylic Roof System allows for nearly effortless installation to existing structures. Furthermore, our roof systems are virtually maintenance-free and come with a 30-year guarantee of 90% light transmission and clarity.
Hybrid Acrylic Patio Cover
Our Hybrid Acrylic Roof and Patio Covers offer the same benefits as the pure acrylic option, with a twist. The hybrid system also includes solid, thermally insulated panels that allow you to have more precise control over the amount of sunlight in your Sunspace Sunroom. Additionally, the thermal insulation enables you to keep the room cooler in the summer.
Insulated Roof System
If you are looking to build a protected carport or install a roof over your pre-existing deck, consider our Sunspace Insulated Roof System. Our insulated roof systems range in thickness between three, four, and six inches. Our experts can help you determine the best roof thickness for your project using the snow load, roof projection, and R-value. To increase effectiveness, each roof system has an internal water trough system that channels moisture away to heavy-duty extruded aluminum gutters.
For more information about Sunspace Roof Systems or to get started on your project, contact Sunspace Texas today!