TOP 3 REASONS TO HAVE A PORCH ENCLOSURE INSTALLED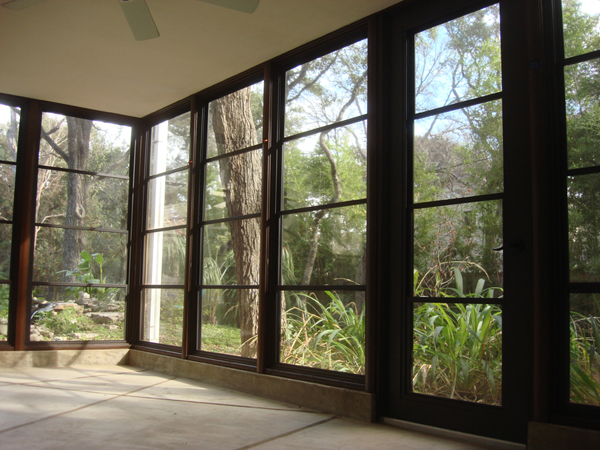 On good weather days, "porch enclosure" might almost seem like an oxymoron. Porches are for enjoying the outdoors, right? But as the temperatures drop and we start to retreat indoors, many homeowners find the idea of a porch enclosure more and more appealing. A porch enclosure won't stop you from enjoying the outdoors on a mild, sunny day, but it might allow you to enjoy your porch on days when the weather is less than perfect. In fact, there are several reasons why you might be able to benefit from an enclosed porch, not just in the winter but all throughout the year.
Enjoy Just Enough of the Outdoors
This is the most obvious reason to have a porch enclosure installed, and the reason why most people opt to have it. With a porch enclosure, you can watch the sunset on an uncomfortably cold or hot day, or listen to the rain without being rained on. You can even enjoy a nice day from your porch enclosure, knowing you won't have to worry about bugs or tracking dirt inside. Our fiber mesh screens allow for 75% ventilation, so you can still enjoy the fresh air, but if it's a nice day and you want to go outside, there's nothing to stop you. The difference is that, with a porch enclosure, you can enjoy the day regardless.
Extra Space
Having a porch enclosure installed is more affordable than having another room added to the house, but it can function as another room, and you can use it for anything. Your porch enclosure can be a playroom or a dining room, a guest bedroom or a second sitting room where you can just enjoy the view. This extra space, especially with all the ventilation and sunlight allowed into your enclosed porch, is also sure to boost the value of your home when you decide to move.
Great Entertainment Venue
Among the other functions you can give to your porch enclosure, it's a terrific entertainment resource. You can enjoy drinks on the porch with your friends on the coldest night of the year or have extended family over for dinner looking out at the starry night. You can play some music to add to the ambiance. Whatever your entertainment needs, your porch enclosure is the perfect space.
If you want a porch enclosure of your own installed, contact Sunspace Texas. We provide porch enclosures with the perfect combination of style and comfort: case in point, our Weathermaster 4-Track Vertical Window System uses durable vinyl window panes and a variety of colors. The acrylic roof system allows light to filter down into the porch enclosure while blocking the most harmful rays of the sun. Call us today at 1-888-271-5810 for a free estimate to learn what benefits we can offer your home with a porch enclosure installation.