SCREENING IN AN EXISTING PORCH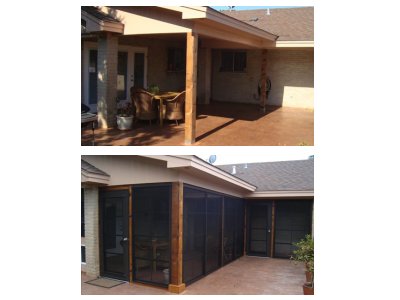 Let's say you live in a lovely historic neighborhood like Travis Heights in Austin.  Your house has a great structure and probably a patio or porch that you would like use all year long. Someone has to go out and appreciate those big live oaks, right?  What can you do to your patio or porch to make it more livable and attractive at the same time?
You'll likely want to use multiple products to either cover your space or to enclose an already covered porch. What sort of products are available and what do they look like?
Stacking Door System
Sliding doors are old fashioned and limited in their ability to open fully. A WeatherMaster Plus Stacking Door System will add beauty and style to an enclosed porch, and open more fully when you want to let more air in.
Vertical Window System
When you have an existing structure to build on, one of the best things you can do is add a 4-track Vertical Window System. You have the light and airflow from outside while having the comfort of a room.
Pleated Screens
Regular screens can only slide and they take up a lot of space.  When you use SlideClear pleated screens, your enclosure will be more elegant, and the pleated screens fold right out of view when you want them to.  SlideClear pleated screens are larger than typical screens and allow you to have a sizable entryway.  They're also made of a more durable material than other screens.  These are high-quality screens for modern living.
These are just a few of the options that may fit in your space.
How to know which options are best for your space
Whether you live in Austin or Houston, to enjoy your outdoor space you're going to need more than product ideas. You need a plan. Unless you're very familiar with local building codes it's difficult to know what you need in order to make the right choice for your space.
Thankfully, there are people that can help. You can get a custom design for your home.
Custom designs are important because they work with the lines of your home and don't try to stick a factory made square peg in a round hole. Not only is this unattractive, it may not be up to code.
Whether you're in Bryan-College Station or Houston, a quality screened porch that fits with the style of your home can make it easier for you to enjoy your outdoor space. The right people to do the job will have the best products and the best design. You don't have to use lower quality standard items from a hardware store and try to make them fit in your space.
If you're ready to either cover your patio or screen your porch you can get a free estimate. Then you can find the right combination of products for your home so that you can enjoy the beauty of the outdoors and add to the beauty of your home.