3 Questions About Your New Sunroom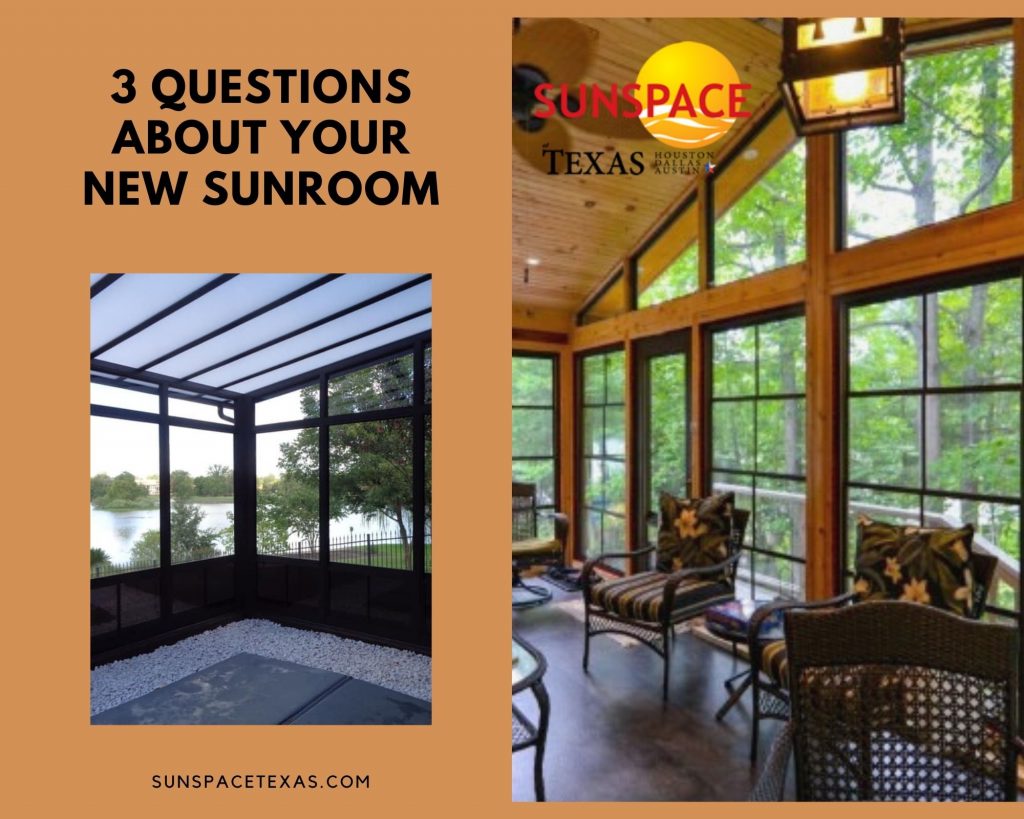 Just the look of a sunroom can be enough to make a homeowner eager to have one installed in their home. Any home addition can be a treat, but with sunlight streaming into every side of the room and expansive outdoor views, sunrooms are a picturesque and popular choice. Of course, you need to find the right sunroom installation crew, experts in the art of installing beautiful and lasting sunrooms. Once you do, however, you might have questions for them about your upcoming sunroom. Here are a few questions you might ask:
What Kind of Sunrooms Do You Install?
Do you have a vision for your sunroom? Make sure that your sunroom installation company is prepared to meet that vision so you can have the right sunroom for you installed. That could range from a simple porch enclosure to a full, insulated, all-season thermal sunroom that you can enjoy throughout the year. At Sunspace Texas, we offer four models:  Model 100 screen room, WeatherMaster room with vinyl windows, 3-season glass window sunroom, and an all-season thermal room. Between these four, you should be able to find your perfect sunroom.
What Kind of Warranty Comes With My Sunroom?
A warranty helps to ensure that you can not only enjoy your sunroom for now but for years to come. If something goes wrong in the future, you can have your sunroom repaired under the coverage of your warranty. It also gives you an indication of the company's confidence in their product. Sunspace Texas, like all Sunspace Sunroom companies, offers a LIMITED LIFETIME manufacturer's warranty, so the product will be covered for as long as you have it.
How Long Does a Sunroom Installation Take?
It's helpful to know how long it will take to get your sunroom from the time that you order it. For one thing, it's exciting! You want to be able to enjoy the sunroom you've ordered. Knowing how long it will take will also help you to plan, in the event that you want to have it done by a certain time or that you want to be out of the house while the installation goes on. At Sunspace Texas, it typically takes about 5-7 weeks from the time the sunroom is ordered before it is ready to be installed. From there, the installation typically takes about one day, although it can vary depending on the complexity of the project. HOWEVER, during this unusual time with the COVID, lead times are about double due to the very high demand of our products and Covid protocol with our suppliers.
These are just a few questions you might have about your upcoming sunroom installation. Homeowners like to be informed about the investments they make for their home, and it's understandable that you might have more questions. Sunspace Texas is here to help. Check out our FAQ to find answers to questions that our customers often ask. Still need more information? Contact us today to ask us directly or to schedule your sunroom installation.