How Much Should You Plan Before Meeting With Your Sunroom Contractor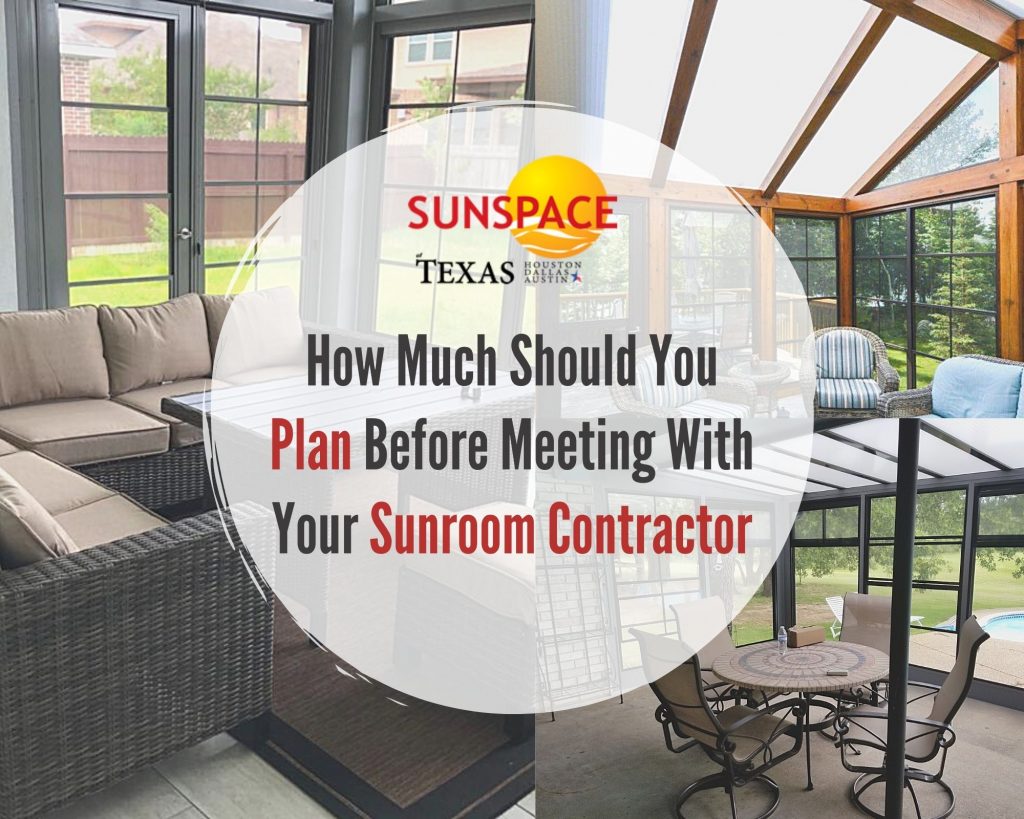 The greatest benefit of hiring a sunroom contractor is knowing that you won't have to go through this project alone. A home addition of any kind can be quite a hefty one, and a sunroom installation is particularly tricky to deal with on your own. Fortunately, when you hire an expert sunroom contractor, you have the backing of someone who installs sunrooms all the time and knows all the ins and outs of it. They may be able to help you with any number of elements of the project.
However, there are some things you'll want to determine for yourself before you meet your sunroom contractor, so that you can give them a clear idea of what you need. Here's what you'll want to keep in mind:
Where To Install Your Sunroom
Before you order your sunroom installation, you'll need to be able to tell your sunroom contractor where you'd like the room to be installed. Otherwise, they'll have a difficult time planning for the installation. Sunrooms are often installed facing the backyard, but not always. You might opt for a screened-in porch that will obviously face the curb, or a sunroom on either side of the home. An east or west facing sunroom will be able to offer a view of the sunrise or sunset, respectively. Keep in mind the surrounding area, too, trees and shrubs that you might need to trim or wish to keep.
How To Use Your Sunroom
Why do you want a sunroom? Is it simply to let in more natural light, or do you need an added entertainment space for your home? Are you looking for a child's playroom or a quiet artist studio? The reason for the sunroom will impact the kind of sunroom you need, where it should be installed, and the size of the sunroom. Thus it's a good idea to make sure that you have a vision for how the sunroom will be installed before you meet with a sunroom contractor.
When To Use Your Sunroom
Will your sunroom be an added dining space for special occasions such as holiday dinners? Maybe a place to play games on warm summer nights? Or is it something you home to use every day? If your sunroom is a room that will get heavy circulation, your best bet will be an all-season sunroom that stays insulated and warm year round, without becoming too hot and stuffy during the summer. However, if you have a budgetary constraint, a standard screen room might suit you better.
How Much To Spend On Your Sunroom
Finally, figure out your budget. While you may be able to discuss this with your sunroom contractor and rework your budget, you should go into this meeting with an idea of how much you can or would like to spend on the sunroom. You may be able to work out a financing plan with a sunroom contractor in order to have the sunroom of your dreams better fit within your budget, so it's a good idea, too, to look for sunroom contractors that offer financing plans that work for you.
Have your vision for your sunroom and your budget figured out? The next step is finding the right sunroom contractor. Contact Sunspace Texas today for more information on our high quality, custom sunrooms or to get started with a free estimate.