3 UNIQUE IDEAS FOR YOUR PORCH ENCLOSURE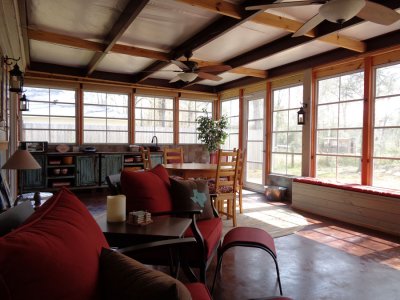 Installing a porch enclosure is a great solution for those who want to relax on the porch and enjoy the outdoors but don't want to be inconvenienced by the heat or storms. With vertical, floor-to-ceiling windows surrounding the space, you can recline on your porch and watch the sunset or listen to the rain from the comfort and conveniences of the indoors. It's also a good investment for anyone who wants to add space to their home. We've talked about using your sunspace for dining or for an indoor garden, but it's not the only thing you can do with the space. Here are some of our favorite uses for a porch enclosure.
A Home Office
Studies show that exposure to natural sunlight helps people to be more energized during the day and sleep better at night. If your workspace feels stale and dim, consider moving it to your sunny porch enclosure. You can work against the beautiful outdoor views and enjoy the sunlight that fills the room. Add a few plants by the windows for extra color and pleasant smells. If you need a change of venue, you can even step outside for a bit and work in the fresh air. A porch enclosure provides a unique, refreshing workspace so that you can stay motivated to be productive throughout the day, and even enjoy your work.
A Guest Room
Expecting company? If you need space for guests in your home, you can always wow them with your sunspace. Whether you set it up as a bedroom with a dresser and closet included or you create a seating area with a futon and a pull-out couch, your porch enclosure can easily be converted into a guest room. Your guest can enjoy the best views in the house, and if they need privacy, just install some shades or blinds. There's no need to worry about an overheated room, either. Sunspace Texas creates porch enclosures fit for ventilation and uses energy efficient vinyl windows, so the room will stay cool, even when the weather outside is hot.
A Pet Room
If you have a beloved furry friend, treat them to a relaxing sunspace. Your cat or dog will love lying by the window and soaking up the sun. Bring their food and water, toys, scratch posts, and beds into the sunroom and they may never want to leave. This is a particularly nice treat for indoor pets. If you don't have an enclosed fence around your yard for your pets to play, they can still enjoy the warmth and light of the outdoors from their sunroom. They'll probably enjoy watching the squirrels and birds pass by from the windows, as well.
Need some more ideas? What about a game room? Or an exercise room? A relaxing home spa? If you can think of a space that your home lacks, your porch enclosure can almost certainly accomodate you. Contact Sunspace Texas–your local experts in porch enclosure installation–for a free estimate.