CHOOSING A PROFESSIONAL FOR YOUR SCREENED PORCH INSTALLATION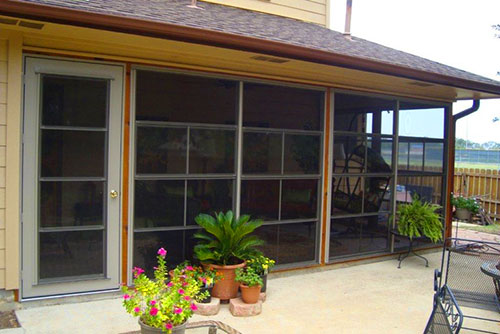 Unless you yourself are a construction professional, a screened porch installation is not an ideal DIY project. It's extensive, messy, often involving electrical work, and it's more complicated than the finished project might appear. Whether you have construction experience or not, hiring a professional will save you plenty of time and stress. The question is how to find the right professional for the job. Once you know all the companies in your area who handle porch enclosure installations, how do you choose? There are a few things to consider here, and it could mean the difference between a quality sunspace and a money pit. Here's how to spot quality service at a reasonable rate from the competition.
Read the Reviews
It goes without saying that before you hire a construction company, you should do thorough research on their experience and reputation. Start with their website. If they have any reviews or testimonials, great. But remember their website will be biased in their favor. No one's going to post a negative testimonial to their own site, so it's best to do a google search and see what customers are saying away from their website. One great resource for finding unbiased reviews on home improvement professionals is Houzz.  Houzz not only shows you what previous customers thought of the work, it tells you the date the project was completed and the cost that the customers paid for the work. Seeing a price range will help prepare you for the next step.
Get an Estimate
If a company tries to charge for an estimate, that's a red flag because so few do. Most home improvement professionals will be more than happy to offer you a free, no-obligation estimate for the work you need. After all, they don't want to go into business with someone who isn't prepared to pay their rates, and they understand that you probably don't have unlimited funds at your disposal. Before you call, make sure you have a clear idea of what you want so that you can get an estimate that's as close to reality as possible. Compare prices to the quality of service that you found when searching for reviews. Sometimes it might be worth it to go with someone that charges a little more, but provides better service. Definitely ask if they offer financing. If so, you might be able to expand your budget.
Ask Questions
If you're hiring a company that has years of experience in the area and their reviews are overwhelmingly positive, you can probably assume that they are, in fact, a professional. However, it still helps to ask questions–both for your own information and to make sure that the professional knows what they're doing. During the consultation, the first question on your mind besides cost will probably be time, so go ahead and ask how long the work will take. You should make sure that they're licensed before hiring them, and if they offer a guarantee. You should always ask if their team has an electrician on staff, since often installing outlets or working with electricity comes with the job of an enclosed porch. It might also be a good idea to ask about the materials they use, and their energy efficient resources. If they offer financing, ask for details about financing.
Sunspace Texas is committed to serving Texas with quality sunspaces at affordable prices. Contact them today for a free estimate and learn how they could be the right team for your screened porch installation.