4 Benefits Of An Enclosed Patio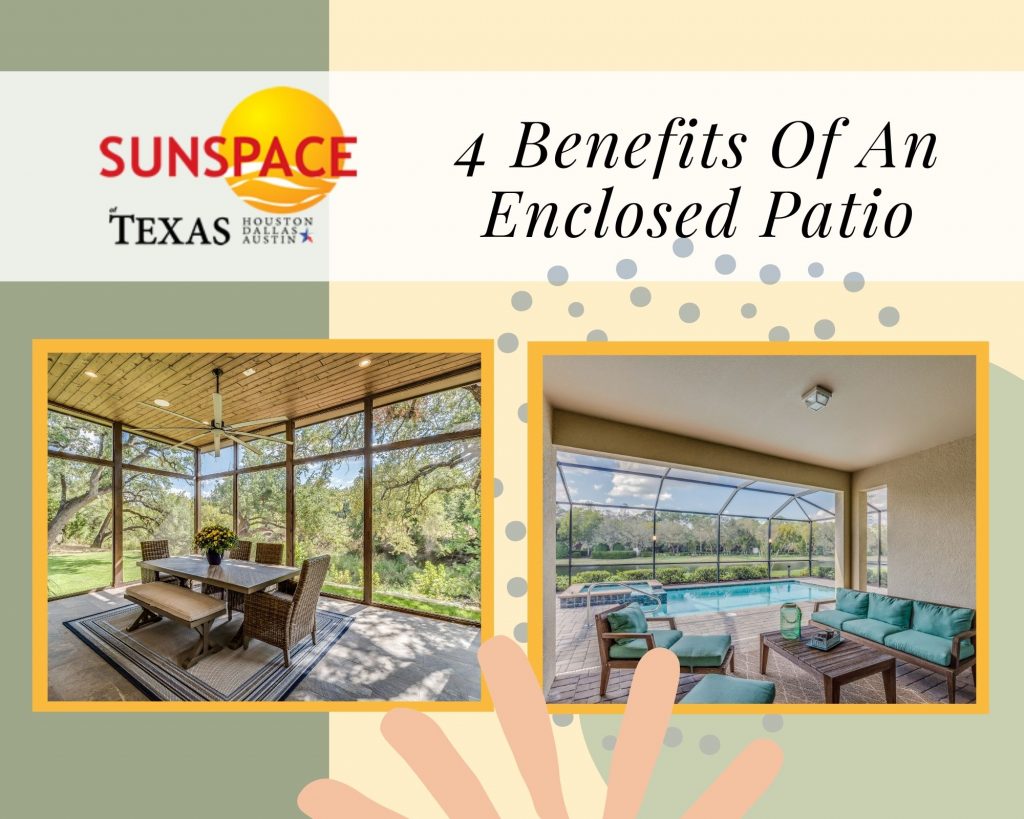 There are many different types of sunspaces you can add to your home. Some involve adding a whole new room to your home, others include insulation, but the most basic and value-friendly sunroom is the one in which the groundwork already exists. If you have a patio, you can simply enclose that with screens to form a sunroom that allows you to enjoy the beauty of the outdoors from inside. Interested in an enclosed patio for your home? Here are a few of the benefits of an enclosed patio:
Value Option
The main benefit of an enclosed patio is that it's the most affordable sunroom installation. Because the patio already exists, the sunroom installation team doesn't have to lay the groundwork — they just have to screen what's already there. If you want a sunroom, but you have a limited budget, an enclosed patio is a great way to get the best of both worlds: a sunspace and savings.
Installation Time
This goes to the last point: because it's simply screening in an enclosed space and making it fit for a sunroom rather than creating a sunspace from scratch, enclosed patios take less time to install. This is perfect if you have limited availability or you want to finish a remodeling project before selling your home and moving. It's also a boon because installation projects can be noisy and disruptive — even with the most professional installation crew. With an enclosed patio project, this will be minimized and you can still easily stay in your home during the project.
Added Home Value
Any sunspace adds value to your home. Sunrooms, porch enclosures, and patio enclosures are all popular and desirable features to find in a home. It also technically adds square footage to the home, because this outdoor space now constitutes an indoor space. Added square footage will always add value to your home. Between that and the boosted curb appeal, a patio enclosure is a good way to make your home a hot commodity on the housing market if you plan to sell soon.
Pest Reduction
Hanging out on the patio on a beautiful summer day is relaxing and picturesque. Bug bites or ants and flies coming for your food is…less peaceful. Pests are a natural element of your outdoor spaces, but your enclosed patio can help you to have the best of both worlds. A patio enclosure is carefully screened in to keep out pests throughout the year, but it still has all those beautiful outdoor views to enjoy. If you want to soak up the sun, but not spend most of the day swatting off bugs, a patio enclosure is a great option.
The quality of the patio enclosure you install depends on the installation team you hire. Sunspace Texas is a part of Sunspace Modular, which has been in business for over 25 years. We offer truly quality sunrooms built to enjoy and to last. Contact us today to learn more about our patio enclosures or to sign up for an estimate for one of your own.