Creating a Cozy Farmhouse Sunroom For Your Texas Home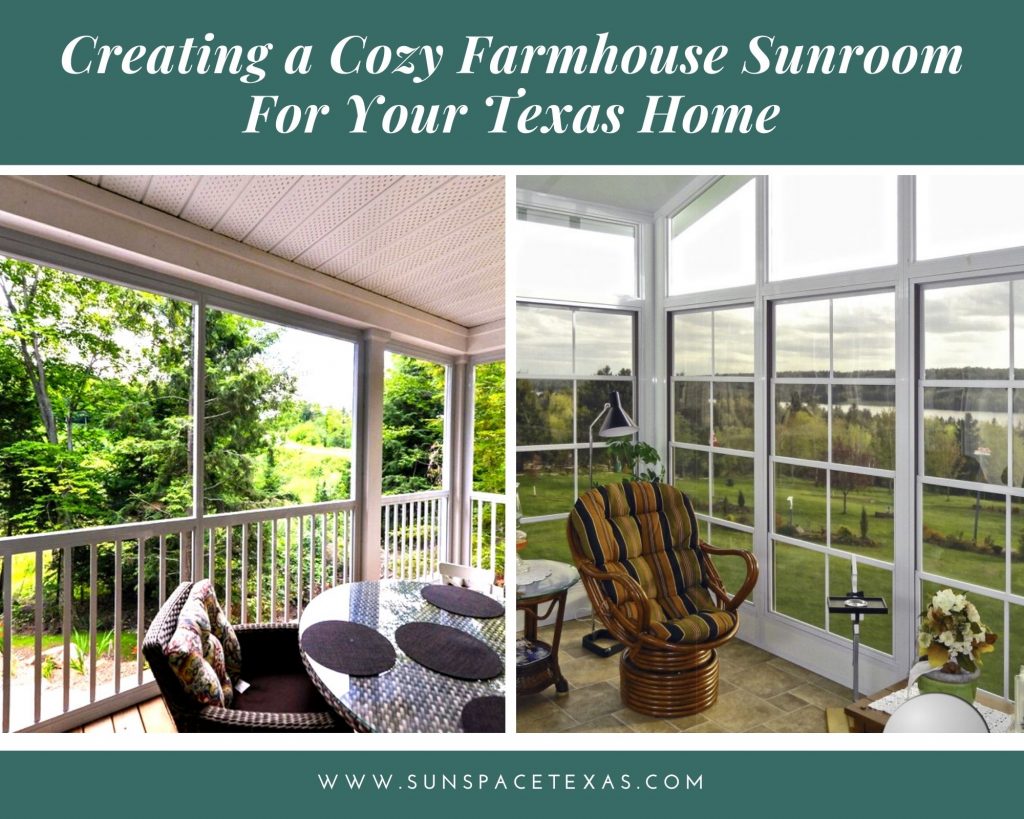 The farmhouse style is a popular one throughout Texas, for good reason. This cozy design style is perfect for letting in the soft sunlight, emphasizing rustic materials, and generally creating a soft, homey feeling. You can find it in the kitchen, in the bathroom, in the bedroom, and you can even find it in your sunroom.
Having an energy efficient, brightly lit sunroom installed from a knowledgeable sunroom installation crew is one thing. The design you choose for your sunroom is entirely up to you. Here are our tips for creating a cozy farmhouse sunroom in your own Texas home:
It's About the Feel
So much of the sunroom design style is that rustic feeling. The grooves and grains of natural wood. The fabric that has a just slightly scratchy texture. The soft, warm sunlight streaming down on your face. Your sunroom already enhances the natural sunlight in your space. Durable, organic fabrics such as hemp, linen, or twill will help to create the right feel in your home. A wooden table or wooden chairs will add to that down-to-earth rustic charm. A knit throw or some embroidery to hang up will also enhance the style.
Think About Colors
If you like loud, bright colors, that's perfectly valid, but it's not exactly what the farmhouse style is about. When it comes to the farmhouse style, the subtler the better. Light, creamy colors will add to the soft sunlight streaming in through the window, occasionally complemented by dark, rustic elements. Gentle blues or greens are welcome, as well as yellows. The room should have a soothing air to it, light but warm. Occasional pops of deeper color are welcome, but try not to go overboard with them.
Exposed Wood
Exposed wood beams are a must when it comes to the farmhouse style. After all, the farmhouse style is meant to evoke a feeling of life on a farm. Exposed wood beams make the room feel cozier, more stripped down, more old-fashioned and nostalgic. This is perfect for a sunroom. While the main aspects of a sunroom's walls are the windows or screens that let in the light, you may have walls facing the rest of the house. Consider wood paneling or shiplap for these walls. For both wood paneling and exposed beams, you can choose a wood stain that enhances the natural color of the wood or go with a white paint.
Whether you choose a cozy farmhouse look or something entirely different, the thing that counts is having a good sunroom to begin with. Need help finding the perfect sunroom for your home? Sunspace Texas offers all kinds of sunrooms, from porch enclosures to all-season sunrooms, all expertly installed. Contact us today to learn more or to have a free estimate so you can have your own sunroom installed.