4 Creative Ideas For Your New Sunroom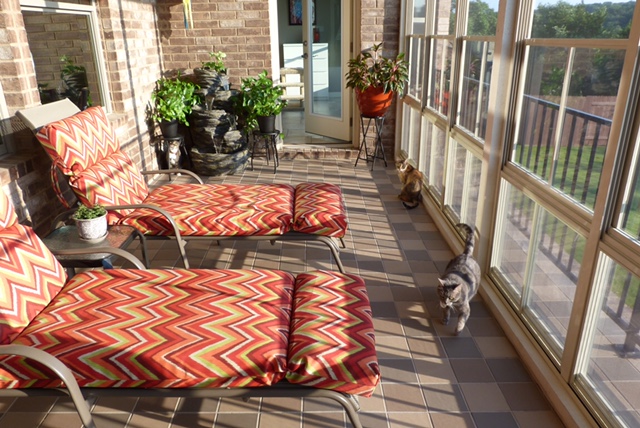 Sunrooms are incredibly versatile. They add more space to your home, in addition to more light, and with such an attractive room, you're probably excited to figure out what to do with it. You may be trawling pinterest for your favorite sunroom aesthetics or making a list of the types of rooms you've wanted to add to your home for some time. If you're looking for something creative, however, we have you covered with these terrific creative ideas for sunrooms.
Small Sunroom? Coffee Nook!
Sometimes you have a limited space for your sunroom. An entertainment room or a playroom may be out of the question, but that doesn't mean you have to relegate the space to storage. Use smaller or fewer furniture pieces to give the room a more spacious feeling. With just a coffee table and some comfortable seating, you can create a small but cozy coffee nook where you can look out at the beautiful scenery while sipping your coffee in the morning or a glass of wine at night.
Mini Library
Who doesn't love curling up by the window with a good book? If you're a book lover, you can use the natural lighting and gorgeous backdrop of your sunroom to create a mini library. Install a couple bookshelves along the wall and perhaps a window seat for the perfect cozy reading room to get away and destress after a long day.
Glass Ceiling
Most sunrooms are surrounded by walls of glass windows or sunroom screens, and a solid ceiling that resembles the rest of the house. If that's your preference, there's nothing wrong with that. However, if you're looking for a way to let in even more light and create an even more natural look, you might consider a glass ceiling so that the roof of the sunroom seems to be open to the air above. It keeps you comfortable indoors while also giving you the feeling that you're outdoors. If you don't want the entire ceiling to be glass, consider installing a skylight.
Add Pops of Color
The most popular color schemes for sunrooms are white and off-white, because it creates an open and airy feeling. Other sunrooms might go for more earth tones to accentuate the nature outside. But you can give the eyes a pleasant surprise by adding in pops of bright color like pink or turquoise. You don't want it to be overwhelming, or it might become garish, but a few accents of color could be just what your sunroom needs for an added boost of vibrancy.
With a high quality all season sunroom, you can be confident in a comfortable room that will last for years. From there, you can do whatever your stylistic preferences desire in terms of the design and function of the room. If you want something more traditional, go for it. If you want to do something different with your sunroom, we encourage it. In the meantime, contact Sunspace Texas today for more information on having your sunroom or porch enclosure installed.