4 ECONOMICAL WAYS TO ADD CLIMATE CONTROL TO YOUR SUNROOM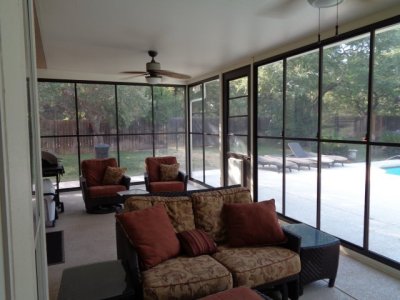 Sunrooms and backyard porch enclosures can offer you an escape from bad weather while staying in the comfort of your own home. In many ways, a sunroom is like any other room in your house. However, in order to make sure that your sunroom is just as comfortable as the rest of your home, you will need to add some type of climate control to this room for maximum comfort all year round.
Many sunrooms come equipped with climate control features. For example, some sunrooms can be ordered with tinted glass windows to cut down on excessive sunlight. Also, adding blinds or curtains can eliminate a great deal of excess heat. Modern sunrooms are very well-insulated so that you can keep cool or warm air inside the room, no matter what the temperature is outside.
However, to get complete climate control, check out these four affordable options for keeping your sunroom at the perfect temperature every day of the year.
Overhead Fans
 Many Texas residents will get the most use out of their sunrooms during the summer months. After all, a sunroom that allows in plenty of natural light is the perfect complement to a bright summer day. Unfortunately, that gorgeous natural light can also carry a great deal of heat into your sunroom.
You can beat the heat by installing overhead fans in the ceiling of your sunroom. Even a single overhead fan can lower the ambient temperature in your sunroom by several degrees. You can add additonal overhead fans for a greater degree of climate control.
Home Climate Control Systems
 If you're looking for an affordable way to heat and cool your sunroom, you'll be pleased to know that you can take advantage of the climate control system that is already installed in your home. You can add heating and cooling ducts into your sunroom that use the existing HVAC system in your home to provide climate control.
With this method, you only have to be concerned with adding these extra ducts and connections to your central heating and cooling system at home. You can monitor the climate of your sunroom simply by using the thermostat in your house.
Portable Fans and Heaters
 This may be the most economical climate control option for your sunroom. Box fans and portable oscillating fans are very affordable and come in a wide range of style options. They're a great option because they can be moved easily and arranged around your sunroom to alter the flow of air or to complement the décor of the room. During the winter, you can use a small portable space heater to chase away the chill.
Many sunroom owners will find that this affordable option is all that they need to relax comfortably in their backyard porch enclosure year-round.
Standalone Systems
 If you want total climate control in your sunroom, then you can choose the option of installing a separate, standalone heating and cooling system in their porch enclosure. This option is a bit more expensive than the others in this list but it provides owners with total, precise control over the temperature of their porch enclosure.
When it comes to climate control in your sunroom, you have plenty of options. You can choose the option that is perfect for your needs as well as your budget.