3 AFFORDABLE WAYS TO LIGHT YOUR SUNROOM IN STYLE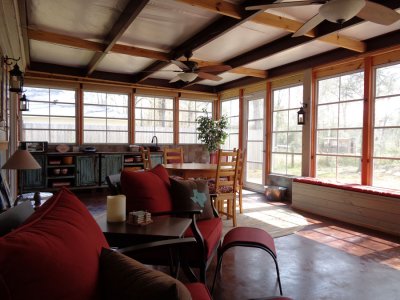 If you use your sunroom to host dinner parties or simply as a space to relax and enjoy an evening, you already know that sunrooms are a great way to spend time in your backyard without the problems of bad weather. These climate-controlled porch enclosures can keep out heat, cold, rain, wind and pesky bugs.
Many sunrooms allow their owners to enjoy natural light with the use of large windows. If it's too bright, you can simply pull down the shades or adjust the blinds for a shadier experience. But what happens if your dinner party lasts late into the night? You will need some way to keep your sunroom illuminated when it gets dark outside.
Here are three great, affordable lighting options that will allow you to entertain your guests or relax long after the sun has gone down.
1. Overhead Pendant Lighting
Overhead pendant lights are a great way to light your sunroom when you need some extra illumination. These lights hang from decorative chains from the ceiling of your sunroom, adding elegance and a classic appearance to your backyard festivities.
These lights are a great option because they are affordable while still maintaining the upscale appeal of your décor. There are options for a vintage look or a more modern design. No matter what kind of decorative theme you may have in your sunroom, pendant lights provide all the illumination that you will need without breaking your budget or altering the theme of the room.
2. Lighted Ceiling Fans
If you have ever spent a summer in Texas, you know how hot it can get during June, July and August. In fact, unpredictable Texas weather may keep temperatures sweltering long into the fall. A climate-controlled sunroom can do a good job of offering you a cool respite in summer or a warm area when it's chilly outside.
Sometimes, however, you need just a bit of extra cool air to beat the summer heat. Lighted ceiling fans are a great way for you to keep your sunroom cool while also offering plenty of light for late-night get-togethers. A single lighted ceiling fan may be all you need to keep cool air circulating throughout your sunroom so that you and your guests can relax in total comfort. For larger sunrooms, two or three lighted ceiling fans can keep your entire porch area comfortable and cool.
3. Lamps and Portable Lighting
Lamps are one of the most cost-effective ways to keep your sunroom illuminated when it gets dark outside. Not only are lamps and portable light fixtures economical, they also give you the freedom to redecorate for any occasion.
Small to medium-sized sunrooms can be completely lit with just two or three affordable lamps. If you have many guests over for a party, you can easily move lamps into different locations to make room for more seating, tables, serving trays or coolers. There is a virtually endless amount of different lamp styles so that you can be sure to pick up a lighting solution that blends perfectly with the design of your sunroom.
Lighting your sunroom doesn't have to break your budget. Consider one of these affordable lighting options to make your sunroom a year-round destination for relaxation and comfort.