4 STEPS TO CLEANING YOUR ENCLOSED PORCH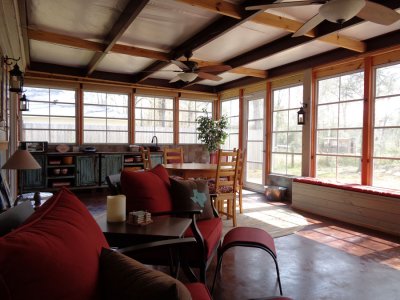 Your enclosed porch can be a tranquil space to soak in the light and beauty from outside while staying warm and dry inside as the weather starts to drop. Because it's a barrier between the outdoors and the rest of the house, it can also help your family get out of the habit of tracking dirt inside. However, that often means that the dirt is collects in the enclosed porch instead. Especially now in the midst of fall, the enclosed porch can slowly start to build up with outdoor leaves, dirt, and pesky insects seeking shelter from the chilly weather. It's important to stay on top of your cleaning so that it doesn't overwhelm you.
Vacuum the Outside of the Porch
If you have a dry day before a few days of rain, that's the perfect time to start. Vacuum the outside of your porch to clear it of any clinging dust or pollen, as well as leaf particles or anything else that might have stuck to it this season. Make sure you get all the little crevices, and once you're finished, wipe down your screens. Fortunately, vinyl windows are fairly low maintenance and shouldn't be a problem to difficult to wipe down.
Clean Any Upholstery or Carpet
Fall is the season of ragweed pollen, and it loves to stick to anything clothy in your screened in porch. So don't let any cushion or rug go uncleaned. This is as important as cleaning the porch itself, and possibly even more important if you're prone to seasonal allergies. Before you clear out your enclosed porch of all furniture (as you will need to do), vacuum the rug and the seating area. If you have cushions, give them a good wash and thoroughly dry them before you return everything to the room.
Hose it Down
Once the porch is empty, it's time to hose it down. You can use a pressure washer, but a garden hose with a jet spray nozzle will work just as well. Start with the screens, where most of the pollen will have collected. If there's a particularly dirty spot, you can wipe it off with a rag and some soap and then rinse it off with the hose. At this point, don't hose down the floor. Even if your porch is treated wood or a surface that won't be damaged by water, it will be better served by mopping it down or giving it a hard sweep.
Wipe Off the Tough Spots
There will always be tight spots, corners and frames that are difficult to sweep, mop, or hose. Fortunately, that's why wet wipes were invented. Find those tight spaces and do some intensive wiping down. The line where the porch surface meets the screen and any corners are usually the biggest offenders. For this part, especially, you may want to make sure you're wearing gloves or a pair of jeans that you don't mind getting dirty.
Fall is the perfect time to enjoy the convenience of an enclosed porch. If you're interested in having your own installed, contact Sunspace Texas today for a free estimate. Sunspace Texas specializes in high-quality sunspaces and screened in porches, particularly using energy efficient, durable vinyl screens. The enclosed porches are all custom-designed so you can have your perfect, easy to maintain porch enclosure.