Adjusting You Sunroom Decor For Spring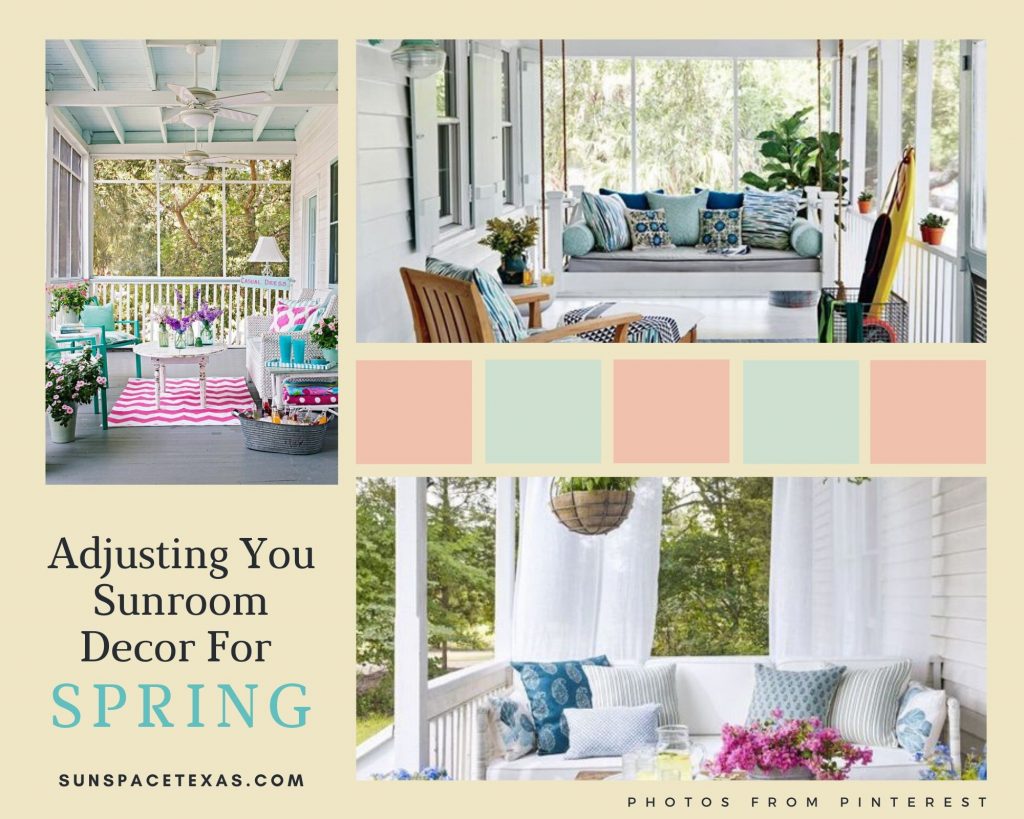 Installing a sunroom from Sunspace Texas means that you don't have to limit your sunroom to a certain time of year. We have three-season sunrooms and even all-season insulated sunrooms. But your sunroom may not look the same throughout the year. You may find as spring approaches that you have to take down holiday decor and prepare the sunroom for the new, brighter season. Or you may find yourself spending more time in your sunroom. Getting your sunroom ready for spring? Here are some of our favorite ideas to spark some inspiration:
Light, Bright Colors
Spring is a season of rebirth, of bright mornings and blooming flowers. It's a colorful season, and one usually associated with baby blues, happy yellows, verdant greens, and soft pinks. You can go with pastels here, but bright spring colors will really help to make the sunroom pop. A combination of bright and pastel will give the room vibrance without making it quite glaring.
Earthy Accents
You can keep the room from being an eyesore by incorporating some earthy accents. A rustically weathered wooden coffee table or wooden chairs can help to bring the room back down to earth. Ferns and other potted plants might also help. Draw inspiration from your outdoor view. What do you like best about it? Try to find ways to echo that from within your sunroom.
Spring Flowers
Nothing says spring more than fresh flowers. In addition to — or instead of — a few earthy ferns, you might place a pot of pansies or begonias near the window or in the center of the coffee table. Flowers add a soft touch, but they're also something fun. They immediately draw the eye, and may make you want to spend more time in the room simply by virtue of their being there.
More Seating
Even with an all-season sunroom, chances are you'll spend more time in your sunroom during the warmer months: spring and summer. So as spring approaches, you may find that you want to add more seating to your sunroom. This could be a couch rather than a loveseat, or an extra chair to go along with the seating area. A hammock chair is a great way to make the most of the indoor-outdoor space that is a sunroom, and it's something unique and fun. Make sure this seating is comfortable. Envision yourself sipping your coffee here in the morning, or talking with your friends.
Spring is the perfect time of year to enjoy your sunroom, so make sure that your sunroom is designed as your perfect spring oasis. But it helps to begin with the right sunroom. At Sunspace Texas, we offer a wide range of quality sunrooms, from porch enclosures to all-season sunrooms. We even offer decks and railings, where you can enjoy the sunny weather from outside. All of this is backed up by expert installation and top products. Interested in a sunroom of your own? Contact Sunspace Texas today for more information or a free estimate.