CREATING A WORKSPACE IN YOUR SCREENED PORCH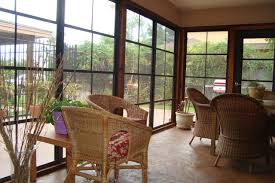 If you work from home, occasionally working outdoors may sound like a pleasant change. However, it can be difficult with insects bothering you. If you have a screened porch and a laptop, you can move your work to an outdoor space as often as you like.
One advantage to working on your screened porch is that it gives you a place to work without interruptions from family or the lure of TV entertainment. If you have a porch that is not already screened in, this might be the best reason to consider converting it if you work from home.
Computers and Laptops
It is not hard to get a computer working with full internet access in a screened porch. Even without electrical outlets, a laptop can function without external power, but you will benefit from using a laptop with longer battery life. However, most porches on modern homes have outlets, so you can just plug in a power strip if you need to use more than two devices.
Many laptops have ports that allow you to connect them to larger monitor screens, which are easier on the eyes, and even allow you to add an external keyboard and mouse.
Keep in mind that a laptop or tablet is probably the better solution for a screened porch because you can take it back into your home after each use. That way your devices are easy to move and stay protected from the elements.
To get full internet access going for your screened porch, you will need a wireless router and – if your computer doesn't already have one – a wireless adapter. Nearly all laptops come with wireless adapters built in, but if yours does not, you can get an adapter that plugs right into it.
Most wireless signals can travel through walls just fine, but if your router is too far away (it could be several rooms away from your porch for example) you have a few options. The simplest solution is to move the router closer to your porch. But if that is not an option you can purchase a wireless booster, repeater or extender, all of which can extend the signal range of your router. Some routers have stronger signals than others, so if you are using an older router, it might be time to try out a newer one.
Desk
Many people prefer to use outdoor furniture in a screened porch because that room will be exposed to the elements. What's the best option?
You can use comfortable outdoor furniture like a table with chairs. On a screened porch, you can get comfortable outdoor furniture that will last a long time because it won't be exposed to the harshest of outdoor weather. The furniture also stays cleaner. This is a great solution for people who want to use their screened porches for multiple purposes. You can use the table as a workspace and then as a dining table.
 Sunspace Texas
Sunspace Texas can help you convert your porch into a professionally done screened porch, or even upgrade it into a sunroom.