A VALUABLE ADDITION TO YOUR HOME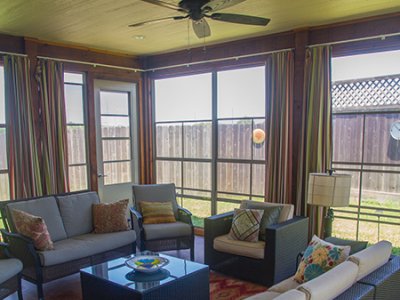 If you're looking to add square footage to the living space in your home you have a few options.  You could convert your garage, convert your attic, or convert your covered porch into a sunroom. The easiest of these three is the last one: convert your porch into a three-season sunroom. Not only is it affordable, it also adds beauty and value to your home.
A sunroom adds value to your home while also adding functionality and living space. Not only are they affordable, but they add to the value of your home. One benefit of a sunroom over a converted garage is a naturally lit living space. Garages can't offer as much natural light as a sunroom.
Three-Season Functionality
Sunrooms are functional additions to your living space. For example, you can use a sunroom as a casual dining space lit with twinkle lights in the evening. Enjoy the relaxed setting of your sunroom while enjoying dinner with friends.
A sunroom can also make a nice peaceful office. With natural light and the calm tranquility of the outdoors all around you, you can focus on your work.  Everyone wants an office with a view, right?  Why not make one for yourself?
A sunroom can also be a workout room.  Instead of putting your exercise equipment in your living room or bedroom, you can move it all out to the sunroom.  Then you can have a real workout space. You can enjoy the Texas sunshine while you exercise without having to endure the Texas summer heat.
It's good for kids to play outside, but mosquitos and high summer temperatures can take the fun out of playing outside. If you make your sunroom into an activity room for your kids, they can play in the sunshine with protection from disease-carrying mosquitos.
Sunrooms can also be a three-season guest room. With the added privacy provided by Sun-Shades, your guests can spend a comfortable night in their own space instead of an uncomfortable night on the living room couch.
If you live in central or south Texas, you might get more than three seasons of use out of your sunroom. With mild winters, you can use your sunroom all year. In fact, winter can have some of the nicest weather with temperatures often getting into the 60's or low 70's.
Sunrooms are a worthwhile investment for Texans. Enjoy the Texas sunshine without all of the Texas heat. It doesn't have to be a DIY sunroom that you throw together with whatever you can find at the local hardware store. Trying to put one together yourself can take a lot of effort. There's another option, though. You can get a professionally built custom sunroom at a reasonable price.
You can get hardworking professionals to arrive at your home on time and finish the job on schedule. Let's face it, with DIY projects, sometimes even the person doing the DIY project doesn't want to show up on time. That's not a problem when you hire professionals.