CREATING AN OUTDOOR DINING SPACE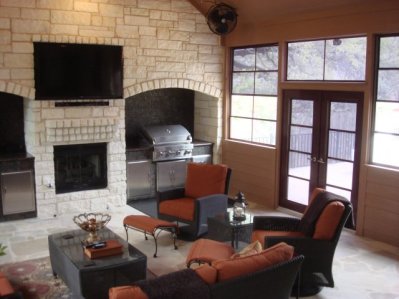 In Texas, we like grilling and we like using our outdoor spaces. How can you create an ideal outdoor dining space for your home?
Put it under cover
If you're wanting to grill and stay out of the sun, having a roof over your head can help. It can also be good for grilling on rainy days. An Acrylic Roof System can make your outdoor space more usable by keeping out the sun and the rain. With an Acrylic Roof System in place, you have extra protection for your outdoor furniture so it can last longer and you can dine outdoors with protection from the sun and rain.
Screen it in 
For protection from insects, you could screen in your outdoor space. With SlideClear Pleated Screens you can easily open up your outdoor space or close it to keep out insects while you eat.
Make a sunroom
For ultimate protection from the elements, you can create a sunroom. Open it up in nice weather or leave the WeatherMaster windows and doors closed for added protection from the elements. This provides ultimate comfort for an outdoor space. It can feel like an extension of your indoor living space with all of the beauty of the outdoors.
In a sunroom, your furniture is more protected from the elements so you have the option to use indoor dining furniture.
Decorating an outdoor dining space
Think of your sunroom, covered patio, or enclosed porch as an extension of your home. Carry the theme of the rest of your house outdoors. If you have a lot of art on the walls in the rest of your house, then make sure to place sculptures and objects of interest in your outdoor space.
In a sunroom, instead of a typical chandelier over the dining room table, you may want to consider a ceiling fan. That way you can get good airflow.
Use comfortable furniture. All too often our patios and sunrooms are filled with less than inviting furniture. Under an acrylic roof or in an enclosed space your outdoor furniture will last longer and stay clean. That means spending a little more on comfort may be worth it. You'll make more use of your space if it is comfortable and inviting.
Good lighting is key to any design. An enclosed porch can be well lit without the fear of attracting insects. In a sunroom, you can use regular lamps and in an enclosed porch with screens, you can use outdoor lighting.
Make your outdoor dining experience more pleasant by creating a space that feels comfortable enough to linger in. Your outdoor dining experience will be much better if you do.
Here in Texas, we have Sunspace Texas to provide everything we need to create a great outdoor living area. All you need to do is figure out how to decorate it after the professionals do the installation. With a professional installation and with some great decorating you can enjoy the beauty of the outdoors from your comfortable dining area.