IS YOUR SUNROOM READY FOR ALL FOUR SEASONS?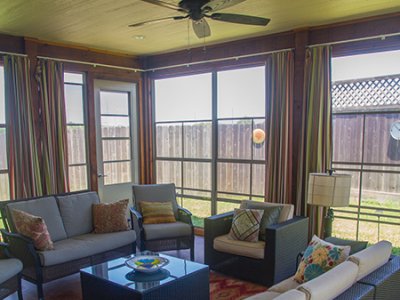 There are a number of reasons why a sunroom could make an excellent addition to your home. It gives the kids a space to play and enjoy the outdoor scenery even in harsh weather. It gives you a space to entertain when your friends come over. It helps your home to become more energy efficient. You can even create an indoor garden in your sunspace. A sunspace is a great way to beat the heat of Texas summers, but with summer drawing to a close, is your sunroom ready for fall, or even winter? Seasons may change, but your sunroom will be a part of your house for years. It's important that the room stays comfortable, no matter how high or lowthe temperature may be outside.
Insulation is Key
In the summer, it helps to invest in a fan or energy efficient windows to keep the sunroom from overheating. In winter, however, you want the opposite effect: you want to keep the heat in. Make sure that your sunroom is properly insulated by searching for and sealing any cracks. If you've had issues with the insulation in your walls before now, this might be the time to check and update that. And if your home already has an HVAC system, see if you can extend that into your sunroom so that the heating that protects the rest of your house can also protect your sunroom.
Invest in Heavy Curtains
I know, this sounds a little counterproductive for a sunroom, but it will help to keep the room warm. You can always draw the curtains during the day so that natural light still floods the room and cover the windows at night so the room isn't too cold in the morning, or you can partially cover the windows. If you're set against curtains, consider buying a comfortable rug to lay out on the floor for the colder months. When the warm weather returns, you can tuck the rug away in storage until it's needed again.
Install Vinyl Windows
What are your windows made of? Are they energy efficient? Do they block the sun's most harmful UV rays? Sunspace Texas actually recommends vinyl windows for an energy efficient sunroom that will serve you well through all four seasons. Vinyl windows are as low maintenance as they come, and they're extremely durable so even the most extreme weather won't cause them to shatter. Just watch these videos to see how strong and flexible vinyl windows can be. Vinyl windows are the best sunspace windows out there when it comes to sealing out pests, harmful UV rays, heat, and cold.
If you find you have some updating to do with your sunroom, call a skilled professional for a free estimate. Sunspace Texas is committed to quality and dependability in your sunroom or porch enclosure. They will make sure that your sunroom can continue to be a room for your family to enjoy no matter what the colder months bring.