MAKE YOUR OUTDOOR SPACE RISE TO THE CHALLENGE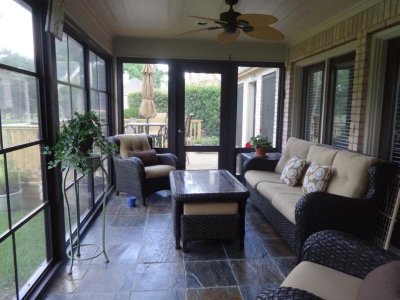 What is your New Year's resolution? Work out more, read more, kick a bad habit? We all attempt to re-vamp and revitalize ourselves in the New Year. Sometimes changing your environment and ritualistic behavior can help.
Consider your outdoor space. Do you use it? Or, does it remain just a backyard that needs to be mowed and minimally maintained. The reality is, most of us are too busy to be master gardeners, pool maintainers, or porch cleaners. With work, kids, or life changes, time is of the essence and there is not the priority to tend to the outdoor spaces.
While these arguments are valid, let's consider what a lot of us do when vacationing or relaxing. What is the draw to go to the beach, ski resort, golf course? Being outdoors of course! Playing or relaxing in the great outdoors allows us to unwind, increase endorphins and feel better. Most of us are less stressed and renewed when it's time to return home after we've been revitalized by the outdoors.
I challenge you to bring some of the elements you enjoy when you travel to your own backyard. Whether you create a beautiful landscape, pool, outdoor kitchen or porch renovation, you can gain appreciation of your space and find happiness in your own backyard!
Some of us only go outside during the week when we go to and from work. If you had a great outdoor space, you might be inclined to catch an hour at the end of the day to unwind. Maybe go for a swim, putt balls, or even set up a treadmill on your porch and run on inclement days. Grilling dinner and eating with your family or reading a great book outside can do wonders.
Take into consideration what kind of investment you would like to make. You can go big and revamp your whole space, or start small and add different elements as you go. Sticker shock can be a deterrent. Some believe that spending money on their outdoor space isn't justified. But, a well-designed, functional out door space can increase value to the home and help sell it. Enclosing your porch increases the functional square footage as well. Plus, you can potentially save some money by enjoying your space over traveling to find something palatable.
One of the great things about our community is there are some excellent landscape architects, pool companies and outdoor construction companies that will help you achieve what you want. Equally as important there are companies that will come and service your space so you don't have to stress about it. The goal is to create a refuge, not an additional stressor of one more thing to manage.
So let the outdoor challenge begin this year. Transform your outdoor space into something you've always dreamed of. Enclose your porch, build a pool, outdoor kitchen, or whatever works for you!