KEEPING YOURSELF AND YOUR PET COOL THIS SUMMER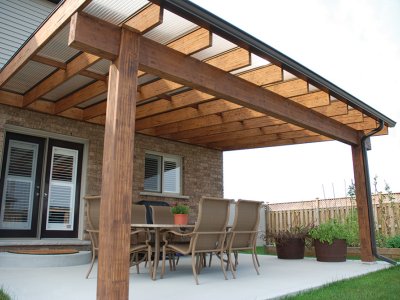 Texas has amazing weather. However, it can be rough on some pets to stay outdoors all the time. Sometimes, they need to be inside to keep cool on scorching hot days. There are also ways to create spaces where your pet can stay in the shade while they play outside. Here are some ideas that can get you started.
Dog Houses
While having a covered pin or dog house could work, they don't really allow for you to be outside with your pet with both of you in the shade. What fun is it for your pet to play outside without you?  So, dog houses can provide some shelter, but a shady place for both of you would be better
An Acrylic Roof System
Acrylic patio covers are a great way to create a little relief from the sun for you and your pet in your backyard. They can go one many types of structures.  They also protect from UV light. They keep the heat out but let a little light shine through. They're a good option if you want your pet to get a chance to be out in the open air without having to worry about too much sunlight. Some pets can get sunburn on sunny summer days here in Texas.
Sunrooms
You could go a step further and have a screened in porch or a sunroom for you can your pet to enjoy. That way there's still fresh air, but not so much heat or sunlight. One advantage to a screened porch or sunroom is that they also keep out disease-carrying insects that can cause problems for your pet. Also, it's a space that is indoors but has pleasant outdoor characteristics. If you have company over that is allergic to your pet, you can keep your pet safely in the cool sunroom.
Then you have an area where you and your pet can enjoy the sunshine without all of the UV rays and heat.
Having Sun-Shades installed in your sunroom can also be a big help. They go a step farther in protecting you and your pet from harsh sunlight. You can have them custom made to fit your sunroom. With help from Sun-Shades, your sunroom can stay a little cooler all summer.
By installing an acrylic patio cover, screen porch, or sunroom we can create outdoor spaces that we can enjoy with our pets on even the harshest of days. Sunrooms have the advantage of being sunny and warm even on cold winter days. Your pet can lay in the sun and get warm or get cooled off in the shade. Sunrooms are very versatile and pet-friendly.
They aren't just for pets
Sunrooms are also people friendly.  You can sit on comfortable furniture protected from the elements and enjoy time with your pet. Sunrooms allow for you to use indoor furniture while screened patios and patios covered by acrylic roofs will also protect outdoor furniture from UV and damaging weather. This allows you to put more comfortable furniture in your outdoor space to make it even more pleasant for you and your pet.