Sunroom vs. Porch Enclosure – Which Is Right For Your Home?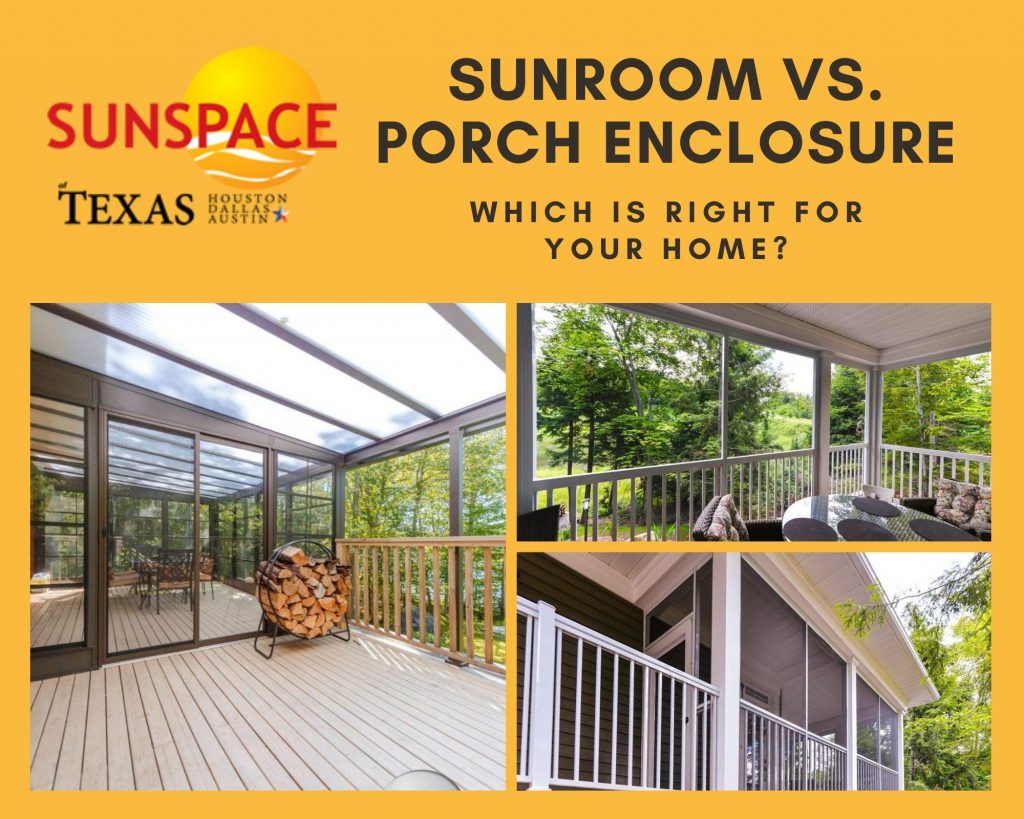 At Sunspace Texas, we not only offer a number of sunroom models, but also porch enclosures. Both allow you to enjoy the sunlight without standing outside in the midst of weather. However, they also have their own advantages and disadvantages. Which is the right choice for your home and your sunspace preferences? In today's blog, let's break down the differences as well as pros and cons of sunrooms and porch  enclosures so you can make your own decision.
Sunrooms
A sunroom is a home addition, literally another room added for the benefit of soaking up as much natural sunlight as possible. Sunrooms are designed to be indoors and can have any kind of floor or ceiling, though often they have high, vaulted ceilings and skylights to add further sunlight. Some sunrooms, such as three-season or all-season sunrooms, are given heating and cooling systems so they can be enjoyed no matter what the temperature is outside. Others are simple screen rooms.
Pros of a Sunroom:
As a home addition, sunrooms add more value to your home.
Sunrooms can be heated and cooled and might be connected to electricity.
Sunrooms have more variety when it comes to design.
Cons of a Sunroom:
Sunrooms require more construction to build than patio enclosures.
Sunrooms are more expensive to install than porch enclosures.
Porch Enclosures
Porch enclosures are window screen systems installed around your existing porch in order to weatherproof it. Porch enclosures are perfect for those who like to drink their morning coffee or a glass of wine in the evening on the porch but don't want to be exposed to rain, pests, or fallen leaves and sticks. Our WeatherMaster Plus porch enclosures have window screens that can be opened with a full screen in order to let fresh air in or closed in order to just enjoy the view but insulate the porch.
Pros of a Porch Enclosure:
It enhances the space you already love, weatherproofing it and bug proofing it.
Porch enclosures take less time to install and are less expensive.
Porch enclosures are great for spending time with friends and family.
Cons of a Porch Enclosure:
Porch enclosures add less value to your home than a full sunroom.
Porch enclosures are typically not connected to heating and cooling and might be uncomfortable on days of extreme weather. (HVAC or electricity can be added to the porch, but this will be more work and thus more cost.)
With the right Sunspace company, you can have a beautiful, comfortable space to enjoy natural sunlight whether that is a sunroom or a porch enclosure. Consider your priorities for your own space and your vision for it. When you know what you want, contact Sunspace Texas today. We can offer a free estimate and go over our options to help you choose the sunroom or porch enclosure perfect for your home.