TECHNOLOGY VS. OUTDOOR LIVING: WHICH IS WINNING OUT?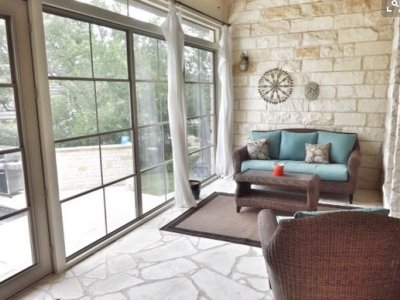 Let's face it. We love our technology. It's scary to think about how many screens we all have in our homes, and how much time we spend on them. We have all read and seen the news about unplugging ourselves and our children from screens to allow for other forms of entertainment and actual conversation!
This leads to a possible solution, and as the saying goes, right in your own backyard! Porches and backyards are sometimes neglected and unused areas due to the lack of good design and entertainment components. But if you design it right, the family will come.
Not that long ago, a porch was the go to place after the day was completed to unwind and enjoy the outdoors. The kids played in the back yard while adults talked and caught up. Now, when we're home, we're still obsessed with checking email, texting and constant screen monitoring. Wouldn't it be great if we could unplug and recapture more of the great outdoors with our families?
Designing your outdoor space does not have to be as daunting as you think. The first step is thinking about what you would like to do if you could change your porch and/or backyard. Could it be a flex room for the porch, an outdoor kitchen, or even a pool? Maybe a play structure for your kids or a garden for yourself. Think about how you like to relax and play. Once you have an idea the design process can begin.
Texas's biggest obstacles are the heat, mosquitos and UV rays. An enclosed porch can eliminate these factors and can lend shelter from the outside elements. You can achieve the feel of being outdoors while controlling your environment. Some people are building pergolas beside their swimming pools with acrylic roof systems, and adding fans, kitchens and pull down shades for protection. This provides an extra space close to the pool for protection from the sun and endless entertaining possibilities. Playground companies are even putting shades over play systems to shelter children. You have many product possibilities to get your family outside safely and comfortably.
To complete the battle against the "screens", you also need to incorporate fun components for the kids and adults. Installation of speakers for music, colored lighting in the pool for nighttime swims, plenty of toys and at the risk of breaking total screen elimination, a TV outside for football games and outdoor movies. Making your area enticing and appealing for everyone in the family, will lead to more time outside, and more importantly time with each other.
So use your untapped resources, enclose that porch, and get that backyard working for you!   You'll achieve better outdoor living and maybe unplug a little more!