THE 3 BEST REASONS YOU NEED AN ACRYLIC PORCH ROOF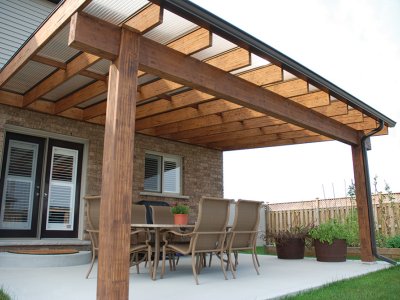 If you've ever looked out at your backyard and imagined all the good times that you could have out there if it weren't so hot, then an acrylic porch roof is the solution that you need. Here in Texas, we know that the summer months can get unbearably hot. In the winter, the rain can make everything damp and drizzly. These conditions can quickly shut down backyard parties and relaxing summer evenings.
Installing an acrylic porch roof in College Station, TX can make all these worries a thing of the past. These affordable, effective porch coverings can keep out harsh sun and cold rain. They can be installed quickly so that you can start enjoying your back yard again.
Here are the three best reasons that you need an acrylic porch roof.
#1. Freedom To Enjoy Your Backyard Again
If you moved into a home with a beautiful backyard in College Station, you might have realized that the weather can put a damper on your plans to enjoy that space. If you spent a great deal of time and effort turning your backyard into a personal paradise, you deserve to enjoy it!
Take back your freedom by using an acrylic porch covering in College Station. These beautiful porch coverings allow up to 90% of natural sunlight to pass through while filtering out harsh UV rays. The result is a cooler temperature with plenty of gorgeous natural light to make any occasion an event to remember.
#2. Low Cost, Low Maintenance
If you're concerned about the cost of installing an entire porch enclosure, then an acrylic porch roof can be the answer. These porch coverings might fit into your budget more easily than a full porch enclosure and they can be installed very rapidly.
Even better, the porch coverings are almost entirely maintenance free. A sloping roof can prevent the buildup of leaves and debris while making it much easier to clean than a covering that uses shingles or rough material. Acrylic porch systems do not yellow with age and they will last for up to 30 years guaranteed. They can also be ordered in a variety of shades to fit your desired level of UV ray filtration. It's a fast and cost-effective way to get the perfect ambience that you're looking for.
#3. Durability
Some traditional porch coverings made of wood or some other plastics can warp and deform over time. As they absorb moisture from rain and become battered by wind, they will eventually break down, requiring replacement every few years.
Acrylic porch systems do not have this disadvantage. Their tough construction will last for years and acrylic resists the warping effects of moisture. The acrylic will not yellow, fade or collect mold like some wood coverings. An acrylic porch system is an investment that will pay off for years and decades to come.
Invest in an acrylic porch system in College Station, TX to take back those relaxing summer nights in your backyard. A one-time, low cost investment can transform your backyard into an ideal spot for entertaining and relaxing.