TOP 5 REASONS YOU WILL NEED A SUNROOM THIS WINTER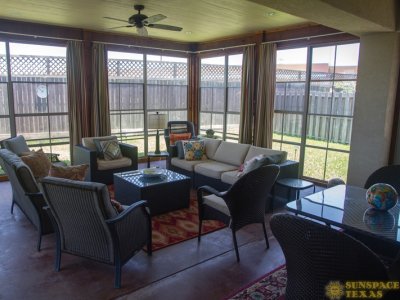 Here in College Station, the summers can get extremely hot. Although the summer months are a great time to enjoy the outdoors, many people look forward to the cooler temperatures of the fall and winter months. Just because it's wintertime doesn't mean that you have to give up your enjoyment of the outdoors.
With a sunroom, you'll be able to enjoy a relaxing evening on your back porch or entertain guests in total comfort. With sunrooms in College Station, you can experience total temperature control while keeping out those chilly winter breezes.
If you are looking for a way to enjoy the winter in comfort, here are five reasons why you will need a sunroom.
#1 – Temperature Control
When it gets chilly in Texas, the winter winds can make any gathering unpleasant. With a sunroom, you'll be able to block those breezes while you sit in comfort inside of a temperature-controlled, insulated environment.
The WeatherMaster Plus stacking doors give any sunroom the option to control ventilation while allowing plenty of sunlight to come inside. These doors stack out of the way for convenience when you aren't using them. They are available in a variety of colors so that you can customize the look of your sunroom to match the rest of your home.
#2 – Keep The Parties Going
Just because it's cold outside doesn't mean that you have to give up on entertaining guests or hosting dinner parties. Whether you are relaxing with a cool drink or serving a home-cooked meal, a sunroom gives you the space to enjoy a gathering all year round.
The size of your sunroom can be customized to fit your needs. They make a perfect setting for a few guests or just a small family get-together.
#3 – Staying Neat and Tidy
You might love your back porch or home outdoor area but you probably don't love the clean-up that comes with it. From leaves and pine needles to bugs and dirt, these locations have a tendency to attract a mess.
Installing WeatherMaster Plus stacking doors in College Station, TX is the perfect solution to this problem. The durable doors keep out dirt and pests so that you don't have to spend all that time sweeping and tidying up.
#4 – Beat The Winter Blues
Although the winter months are a welcome break from the summertime heat, it can be boring to stay cooped up inside all winter long. Instead of waiting for spring, you can continue to enjoy the view from your back porch in spite of any rough weather.
There is no better cure for the winter blues than a warm, comfortable evening in your own sunroom.
#5 – Improve The Look of Your Property
For a reasonable price, you can significantly improve the look and feel of your home by installing a sunroom. You can add a new room or convert an existing space with very little time and effort. Sunrooms in College Station, TX are one of the of easiest ways to improve the look of a newly constructed home or a home you have lived in for years.
When you make the decision to brighten up your home with a sunroom, Sunspace Texas can make it happen.