TIPS TO REDUCE CLUTTER IN YOUR HOME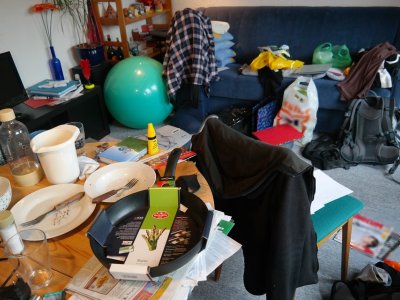 If you've been in the same home for a while, you may notice that you've started running out of space for all of your things. Your house may be getting cluttered. Here are some tips that can help you get out from under the clutter. We'll even cover what to do if you want to declutter without getting rid of anything.
Saying goodbye to clutter
If you have things you need to get rid of there are a couple of effective ways to do it without throwing anything away. No one likes being wasteful.
Have a garage sale.
Garage sales can help you get rid of extra things that still have some value. Advertise your sale on a local site like Craigslist to bring people in. Make sure you follow local regulations about signage. In Austin, for example, you're only allowed to have signs for your sale on your property.
Donate to charity.
Even easier than a garage sale is donating to charity. There are charities, like the Texas Chapter of Paralyzed Veterans of America, that may pick up items from your doorstep. If you've got more clothes than your closet can hold, you might want to consider this option. They'll often take electronics and kitchenware, too.
Sell some items online.
There are multiple websites that allow you to sell things online. Some of them are nationwide and others are local. Just remember to be safe if you agree to meet someone to sell something. Meeting in a public place is best.
Want to keep your stuff but don't have room?
Reorganize. 
Have you ever played Tetris?  If you have your items organized correctly, they won't take up as much space. Rearrange your closet and even your furniture to make more space.
Expand your living space.
If you have extra furniture that you don't want to part with, you may need more living space. This is also the case if you have workout equipment in your bedroom that always seems to be in the way. To get more space you don't have to move to another home. You can expand your living space by converting your porch into a sunroom or by having it screened in. If the items you want to put in your expanded living space are sensitive to moisture, you will be better off with a sunroom with WeatherMaster windows.
Not only will you have more space, but you'll add value to your home. The more square footage of living space you have, the more homebuyers will be interested.
Decluttering your home will make it feel more spacious. If you expand your living space, it won't just feel more spacious. If you feel like you have too much stuff for your house, you don't have to find a new house, you just have to find a way to take advantage of the space in the house you have. Whether you sell your extra clutter, give it to charity, reorganize it, or expand your living space, you'll be happy with the results.