Why Choose Sunspace Texas Deck & Railing Systems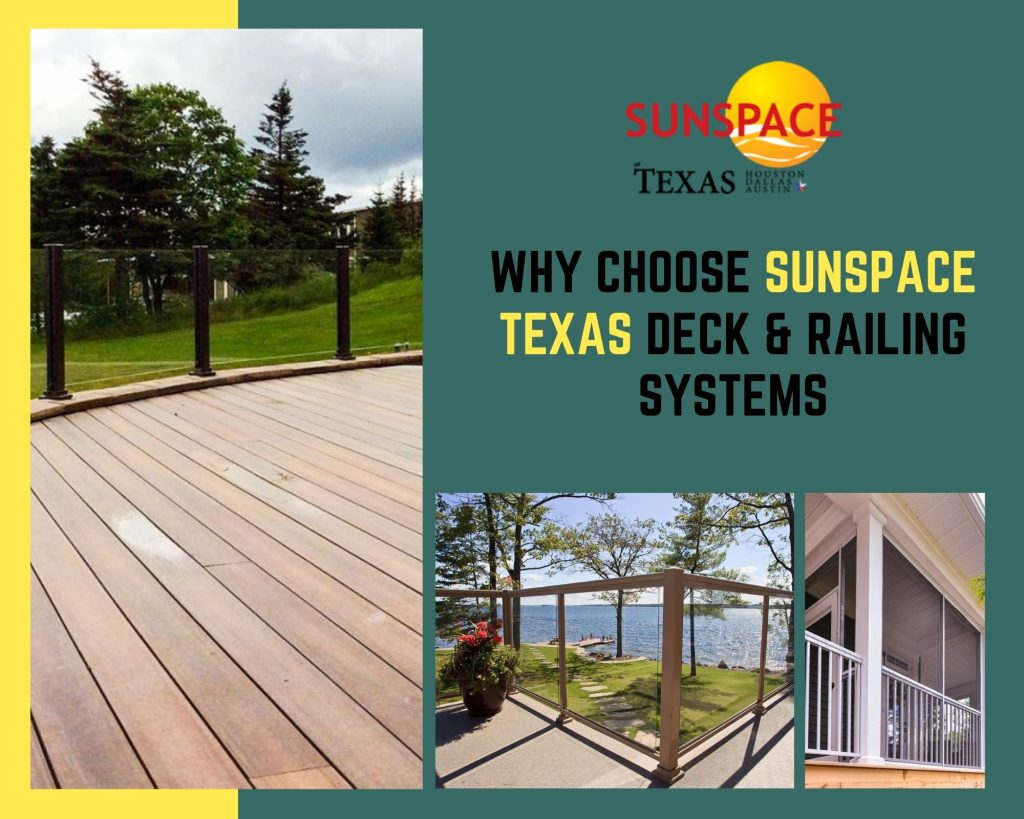 The initial search for the perfect deck and railing system can be overwhelming. From the many different suppliers to the diversity in the systems themselves, there are a lot of tough choices to make. However, if you are still at a loss when it comes to choosing a company to work with, we can help with that decision. Sunspace Texas is the best provider of deck and railing systems for a host of reasons.
Unique and Diverse Options
Every industry has its fair share of companies that will cut corners to make a quick buck or make empty promises to customers in order to get their business. Unlike these companies, Sunspace Texas is committed to giving our clients the best deck and railing systems possible for their money.
Our railing systems keep safety as a top priority while still offering exceptional style and design flexibility. With options ranging from traditional aluminum or glass to topless glass and integrated screens, we are sure you will find precisely what you are looking for. In addition, all of our commercial and residential railing and fencing systems are code compliant and virtually maintenance-free! Our AlumaDeck decking system is slip-resistant, watertight, and since it is made with aluminum, it will not degrade over time due to the elements.
Feel free to check out our variety of color options for our deck and railing systems on our website!
Proven Track Record
At Sunspace Texas, we believe that our long list of satisfied customers and extensive project portfolio speak for themselves. Time and time again, we have left clients so happy with our deck and railing systems that many of them have returned to us to discuss future projects!
Superb Customer Service
Our unparalleled customer service is yet another reason to choose Sunspace Texas. We offer affordable pricing, excellent customer care, and a satisfaction guarantee! You will be treated with the utmost respect from the moment you contact us as our knowledgeable customer service team works to understand exactly what you want in a deck and railing system. From there, you can leave it to us to set you up with a top-of-the-line product that will undoubtedly meet and exceed your expectations. So give us a call today to get started!