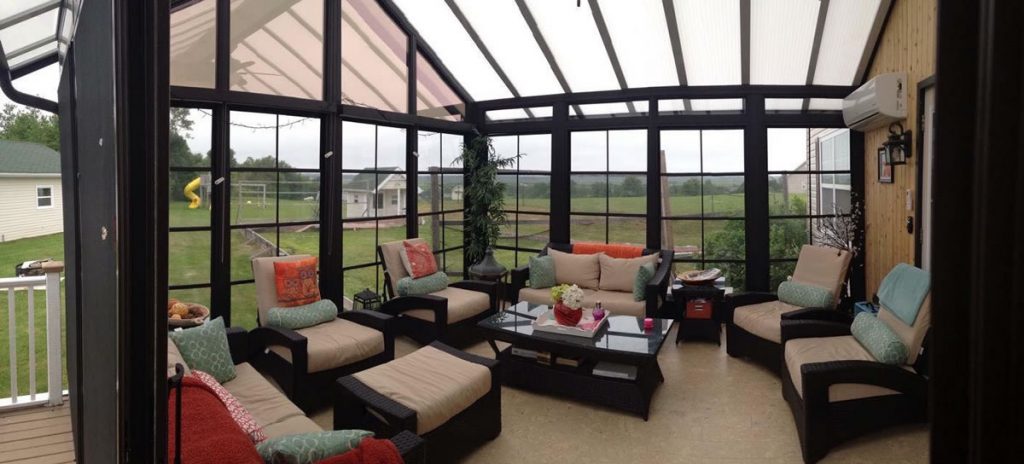 Thinking about adding onto your home? It can be a great way to add market value to your home, as well as enjoyment of your living situation. One addition that many homeowners prefer is a sunroom or porch enclosure. But why should you choose a sunroom for your home? It's one thing for us to tell you that our sunrooms are a great investment, but before you make a choice, you should decide what that investment means to you. Everyone's reasons for installing a sunroom are different. Here are a few reasons that you might be able to relate to.
Need for More Space
Sometimes you just need more space in your home, and a sunroom is an attractive way to do so. Sunrooms are essentially able to light themselves during the day and they can be very versatile, suiting whatever your needs for extra space might be. Need a new family room or game room? Use your sunroom. A studio or home office? Your sunroom. Lacking a proper dining area? Dine in your beautiful new sunroom.
Sunlight Boosts Productivity
Sunrooms also offer a number of benefits if you work from home, whether you run your own business, work remotely for a company, or pursue your favorite hobbies in your home. The sunlight streaming through the screens will keep the room well-lit, but it's been proven that natural lighting also boosts workplace performance and productivity. Sunlight helps you stay more alert and energized, and when you get your energy out during the day, you'll sleep better at night, making you more refreshed the next day.
Peace and Quiet
Maybe you just need a little oasis where you can get away for a while. If that's the case, the extended views from your sunroom, along with soft natural lighting and the right furnishing, could be the perfect place to seek peace and comfort. Bring your favorite hot beverage and a book with you and read while you watch the rain fall around the room. Bring your record player or TV and turn your sunroom into a space where you can decompress with your favorite entertainment. Maybe it can be where you do yoga or meditate to reduce stress. It's your call.
Time With Family
On the other hand, maybe your sunroom can help promote family togetherness. Set up a small table and a shelf full of board games and pick a day each week to be family game night. Agree to meet in the sunroom and talk about your day in the evening. If you have small children, maybe the sunroom can be their playroom and you can join in on the games. And this doesn't have to be family in the strictest sense. Your sunroom can be the perfect place to entertain your friends who feel as close as family.
Do you need a sunroom in your Texas home? Sunspace Texas offers several beautiful and efficient sunroom models, as well as porch enclosure models. Contact us today for more information or a free quote.