4 Reasons to Add a Sunroom To Your Home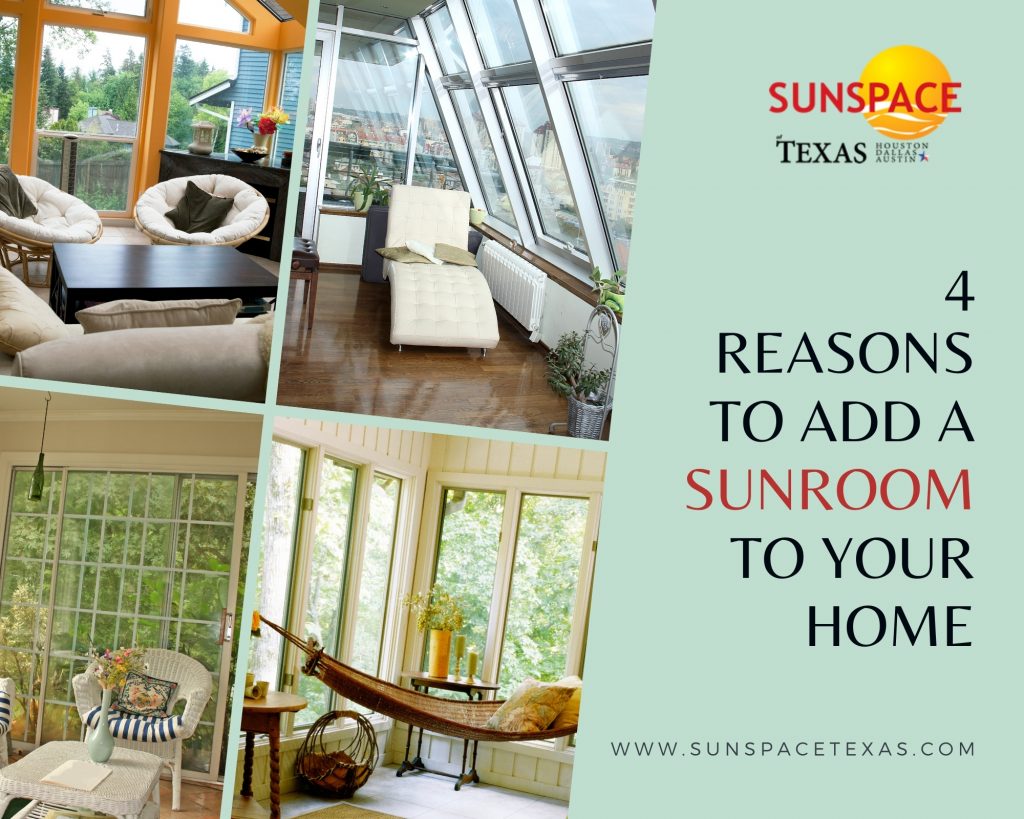 So you're thinking about adding an addition to your home. Maybe you need more elbow room for your growing family or maybe you're thinking of selling the home in the next year or so and hoping to raise your home value. In researching the different types of home additions that you could make, you're likely to have seen the suggestion of a sunroom. Sunrooms are a beautiful addition that offers a wide number of benefits, especially in a sunny place like Texas. But is it the right choice for your home? Here are a few reasons to add a sunroom to your home:
Beautiful Outdoor Views
When a sunroom is installed in a home, it becomes the favored room by most residents as well as visiting friends or family. The reason is obvious: they're absolutely stunning. Through your sunroom, you can fill the space with outdoor views. It's also a great opportunity to enjoy the view even on a day when the weather is less than pleasant. If it's too hot or too cold or if it's raining outside, you can still enjoy those outdoor views from a safe perch within your sunroom.
More Affordable
Home additions can be costly, but often well worth the investment when it comes to boosted home value. However, sunrooms tend to be less expensive than traditional home additions. This is because a sunroom addition can often be a matter of simply enclosing a porch, patio, or deck, or adding more window screens to an existing room. If you're on a budget, but you still want to make a home addition before you list your home, consider installing a sunroom.
Higher Resale Value
Any home addition is sure to add value to your home, and because sunrooms are more affordable, it's easier to get an ROI. Further, a sunroom is a stunning, desirable feature in any home that can really make the deal for potential homebuyers. Because of this, they'll often be willing to pay more for a sunroom. If you want to sell your home in the next few years and want to keep a competitive edge in the housing market, a sunroom is the way to go.
Versatility
Sunrooms can make for a new workout or yoga room, where you can improve your fitness while the warm sunlight streams into the space. You can use the sunroom as a living room, a dining room, a playroom, or an extra bedroom. You can stock up on indoor plants and create an indoor garden or a solarium. The options seem to be limitless. A sunroom is a beautiful addition to any home, but what you do with it is up to you.
Interested in a sunroom for your home? First you need to find the right sunroom installation team. Sunspace Texas offers a wide variety of sunrooms, from porch enclosures to all-season sunrooms, installed with expert care. Contact us today to learn more or to schedule your own sunroom installation.