Adding the Finishing Touches to Your Sunroom Design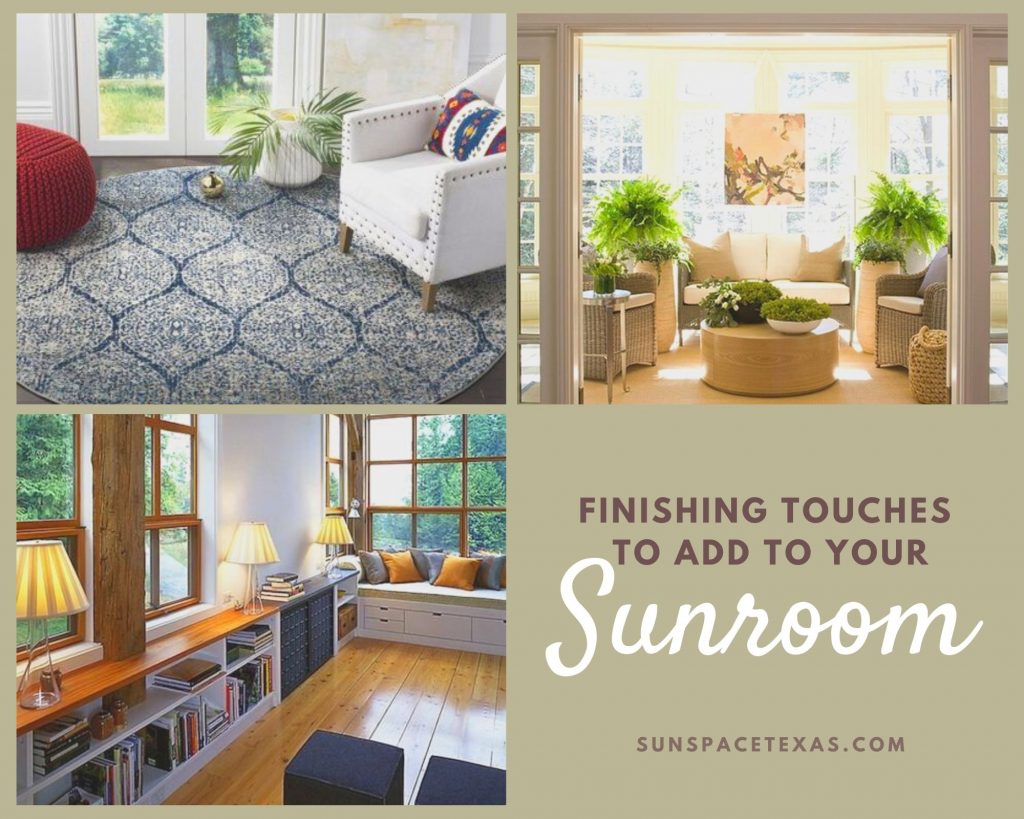 Having a sunroom installed is about more than just adding natural light to your home. It's a new room altogether, one that — like any other room — will need furnishing and a design to be really complete. At Sunspace Texas, we offer a variety of custom sunrooms, so you can find the one that works best for your home. Once that's done, you'll probably furnish the room and figure out the function for it. But when that's done, you might find that the room needs something else to make it feel fully part of your home.
The finishing touches you add depend largely on you: your tastes and what you need for comfort. Here are a few suggestions that suit many homeowners:
An Area Rug
You might not want the floor to be carpeted, but softer flooring can add a warm, comfortable touch, especially if you have pets. Area rugs can also add a splash of color, texture, and character that the room might have lacked before. Not to mention, putting a rug down underneath the coffee table or the couch can keep the edges of your furniture from scratching the surface of your floor.
Window Treatments
The point of a sunroom is to let in natural sunlight, but what about when you're not using the room? The use of easy to operate window treatments like shutters or curtains can allow you to let in as much light as you want and protect your room and furniture from harsh sunlight or excessive heat when you're not in the room. They can also add privacy that is sometimes a concern in sunrooms.
Plants
With such extensive views of your outdoor space, you might find yourself inspired to test your green thumb. Adding plants to the room can give it a homey, natural feeling, and they're sure to get plenty of sunlight. Looking for something a little more stylistic or unique? Consider hanging plants rather than the traditional potted plants, or a cute shelf for your indoor plants.
Books
Is your sunroom where you go for a peaceful morning with a cup of coffee, or a quiet glass of wine in the evening? You can add to that sense of calm and comfort by having a few books on hand. Coffee table books can be there for show, simply to add to the aesthetic of the room, or they can be there for entertainment if you or a frequent guest is a reader. If you like the look of having books in the room but don't find yourself in the mood to read much, you can consider a decorative box made to look like classic books.
Your sunroom is a part of your home, and it should have your own personal stamp on it. The design is really up to you, but it helps to know from the start that you can choose a custom sunroom that truly suits your home. Want to learn more? Contact Sunspace Texas today for more information or a free estimate.