Do You Need a Sunroom or Porch Enclosure?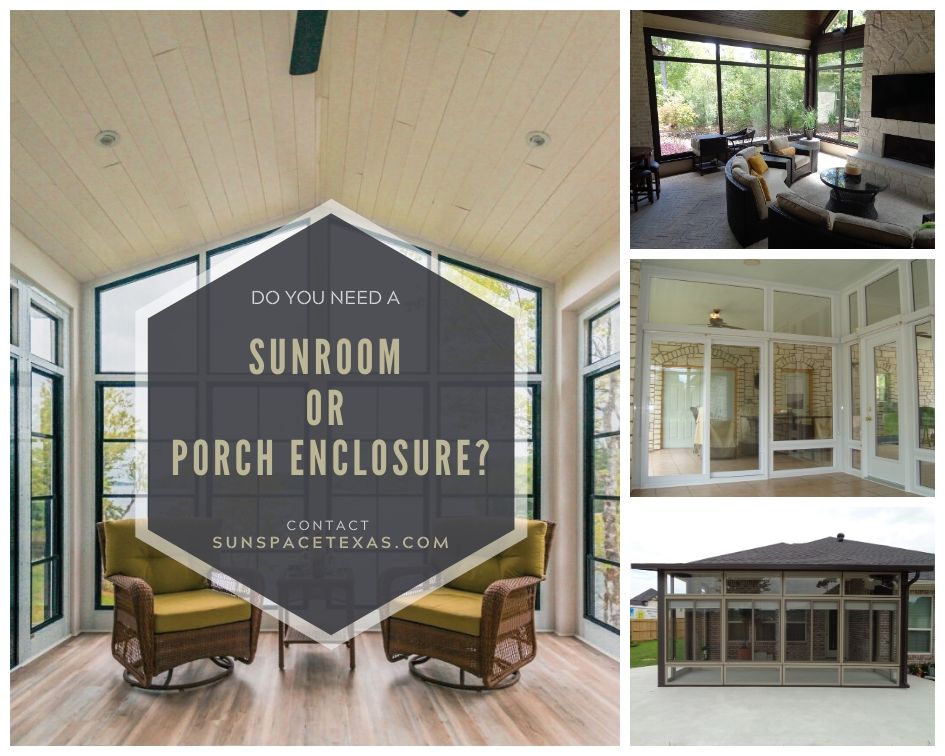 In today's blog, we're not going to talk about all the benefits of having a sunspace in your home. We've discussed those in several blogs past — the energy efficiency, the added home value, the boost to your entertainment space or even your personal enjoyment. But there are multiple types of sunrooms that you can install in your home, and each offer different benefits. The main two categories are sunroom — a separate room designed to let in natural sunlight — or a porch enclosure, adding a screen to your existing porch. So which is the right choice for your home? Let's break down different things you might consider in your sunspace.
Construction Time and Budget
The biggest distinction between sunrooms and porch enclosures is that sunrooms are a completely enclosed room unto themselves, while porch enclosures involve wrapping a screen around a porch. Naturally, porch enclosures tend to involve less construction as the porch is already constructed. Because of this, the project takes less time and is less involved.
This is also a good choice for homeowners who need to be especially conscious of their budget, since less construction means less cost for labor. However, if you're interested in the investment of a sunroom, there are financing options that can make it more affordable.
Temperature Control
Porch enclosures from Sunspace Texas allow you to enjoy the outdoors while offering protection from bugs and other pests, as well as rain and autumn leaves. You can choose between a flexible window screen or a protective full screen. However, if you want temperature control so that you can take in those outdoor views while enjoying indoor comfort, a sunroom is the best option — especially an all-season thermal room. Sunrooms are fully enclosed and often built with energy efficient glass or screens in order to protect from the temperature outdoors and keep the interior comfortable.
Home Value
If you're looking for a way to add value to your home, a home addition is always a great way to do so. Extra space can always add value to your home, especially an energy efficient area of the home full of natural light. An all-season thermal room will add to the most value to your home, but three-season and traditional sunrooms can also help to give you a competitive edge on the housing market. Enclosed porches may be appealing to potential buyers and help you to sell your home when the time comes, so they are still worth the investment in this way. However, when it comes to direct ROI, sunrooms are probably a safer bet.
The quality of your sunspace — whether a porch enclosure or a sunroom — is the key thing. You want an installation company you can trust to create a quality sunspace that will last. Sunspace Texas has a terrific reputation for custom, quality sunspaces. Contact us today for more information or for a free estimate on your next sunroom or porch enclosure.