Common Sunroom Mistakes and How to Avoid Them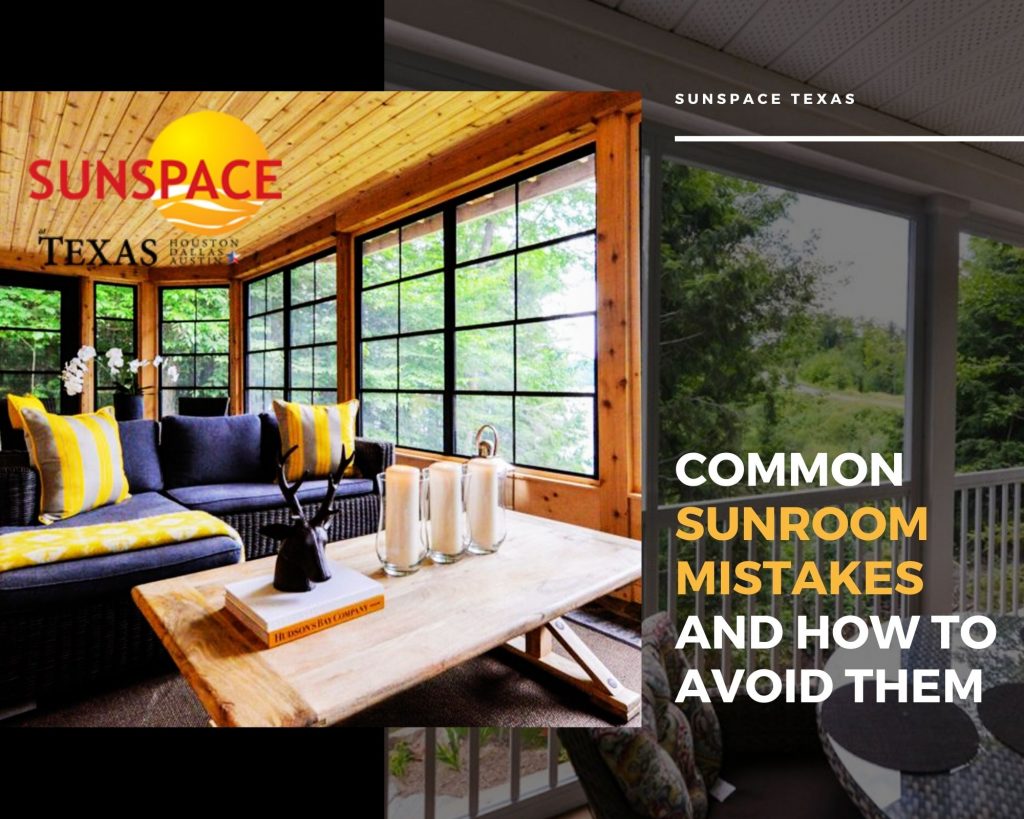 At Sunspace Texas, we understand that planning a sunroom can be pretty exciting. However, it is important to be cautious and take all of the proper steps while seeking help with the construction of your sunroom. Here are some common sunroom mistakes and how to avoid them!
Not Getting Proper Approval
Before you do anything construction-related with your home, you must check your local zoning laws. Not taking the time to do the proper research can result in fines and significant setbacks with construction. The goal is to get a beautiful, high-quality sunroom at a fair price, and legal problems and penalties obviously work directly against that.
Thinking Price Equals Quality
Many companies would love for you to fall for the misconception that higher prices directly relate to higher quality. But, in truth, sometimes high costs simply mean high costs. The best solution for this is to go with Sunspace Texas for all of your sunroom and porch enclosure needs. We have a demonstrated history of providing customers with top-of-the-line products at very reasonable prices!
Not Conveying Expectations Clearly
Regardless of what company you go with for your sunroom, it is essential that you clearly convey exactly what you want out of your sunroom. Assuming that something will be done in any way out of the normal without prompting is likely to leave you disappointed in the end. At Sunspace Texas, we offer many different customizations and are willing to work with you and build you the sunroom of your dreams!
Not Hiring a Sunroom Specialist
Assuming that all home improvement companies can build a beautiful Texas sunroom is definitely a mistake. This would be like assuming that everyone in the medical field is a doctor! To avoid ending up with a mediocre and boring sunroom, the wise choice is to employ an expert in the area.
At Sunspace Texas, we have a proven track record of building stunning, customizable sunrooms that leave our customers immensely satisfied with their purchases. So if you are ready to work with the industry leader in Texas sunrooms, contact us today to get started!