Why Texas Is The Perfect Sunroom State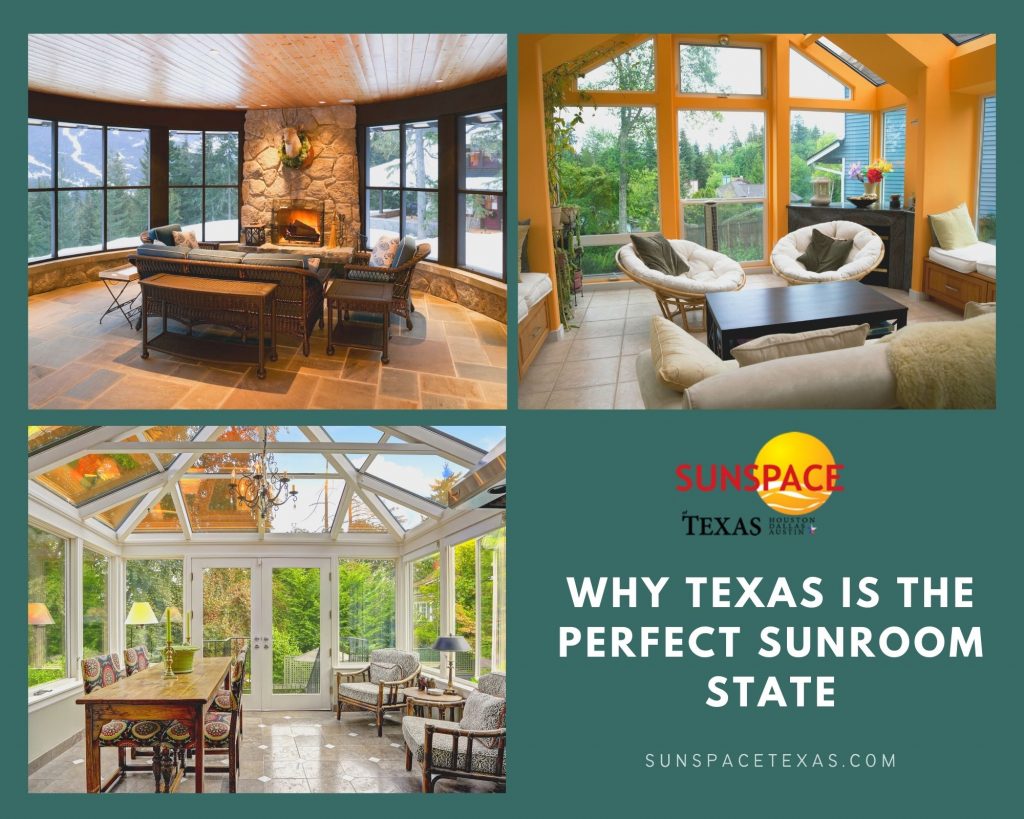 When people hear the word sunroom, they are automatically met with feelings of warmth and comfort. All around the world, sunrooms are enjoyed by homeowners and guests alike as a place to truly relax, chat, and fellowship with one another. There is simply no replacement for an area where you can thoroughly enjoy the sun while still being protected from insects, rain, and pollen!
Design
Properly designed, sunrooms and porch enclosures are spacious, aesthetically pleasing, and well-constructed. In many homes throughout the country, a high-quality sunroom makes an excellent topic of conversation and is by far the favorite place to spend quality time with your loved ones. We believe that Dallas, TX is one of the best places in the country for a sunroom or a porch enclosure!
Weather
We believe that a sunroom or porch enclosure is an excellent addition to any home, regardless of location. However, warmer states make it easier to utilize your sunroom or porch enclosure in every season. Due to the number of windows in a sunroom, any temperature extreme can raise heating or cooling costs. However, at SunSpace Texas, we offer a way to mitigate this issue significantly. Our sunrooms and porch enclosures come with WeatherMaster Plus™, including single glazed tempered and full thermal insulating glass options. This allows for advanced climate control, and it is exclusively owned by us!
Why Texas?
Texas is one of the hottest states in the country year-round, making it an excellent place to own a sunroom or porch enclosure. Both options offer the benefit of protection from unwanted outdoor annoyances while still allowing you to have your much-needed bask in the sun. The city of Dallas is a prime choice for a sunroom or enclosure because it offers an excellent compromise between the cooler temperatures in northern Texas and the warmer temperatures further south.
Contact Sunspace Texas Today
If you haven't yet joined the thousands of people who are adding Dallas, TX sunrooms and porch enclosures to their homes, you are missing out! As the most trusted sunroom and porch enclosure supplier in the state, we know Texas best! Contact Sunspace Texas today, and we will help you find the perfect sunroom for you so you can relax in style!